Nein, Passageriten sind mir immer noch wichtig und ich habe nicht vergessen, dass es, wie jedes Jahr, besonderer Überlegungen bedarf, mit welcher Platte das neue Jahr begrüßt werden könnte. Am 1. Januar dieses Jahres wählte ich, vor meinem Plattenschrank stehend, einen gelenkten Losentscheid: Abteilung Jazz sollte es sein, Buchstabe "J", Augen zu und eine Platte herausgezogen. Dass man sich beim Buchstaben "J" einem Musiker nähert, dessen Anzahl an Veröffentlichungen einen eigenen Katalog lohnen würde, war ja klar, aber, dass ich diese Scheibe ziehen würde … seit mindestens dreißig Jahren nicht mehr gehört, außer einmal ein Stück in den Klanghorizonten (siehe auch Michael am 15.Juni 2015), Schande, dafür jetzt die Eröffnungsplatte des Jahres 2019. Die LP stammt aus einer Zeit, da konnte man in dem Geschäft, das hier abgebildet ist, noch jede Menge Schallplatten kaufen.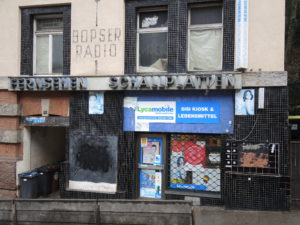 Wir schreiben das Jahr 1974. Keith Jarrett hatte bereits bei ECM veröffentlicht, Facing You (1971), Ruta and Daitya (1971) war bereits eingespielt worden (VÖ 1973), ein Trio-Liveauftritt in Hamburg hatte bereits stattgefunden (1972, veröffentlicht 2014), Keith Jarrett Solo war in Lausanne im Frühjahr und in Bremen im Sommer 1973 aufgenommen worden, aber der Liveauftritt des Meisters in Kronach stand damals noch bevor, er war erst für den Januar 1975 geplant, wie auch das The Köln Concert.
Und 1974? In diesem Jahr veröffentlichten Keith Jarrett, Jan Garbarek, Palle Danielson und Jon Christensen das Album Belonging. Für mich war das die Platte, auf der ich Keith Jarrett das erste Mal in meinem Leben bewusst gehört habe. Im Radio spielte man damals aus dieser Platte "The Windup". Mit diesem Stück eröffnete ich das neue Jahr und das war gut so. Gibt es erfreulichere Musik? Mut machendere? Medizin gegen jede Art depressive Stimmung? Wunderbar, diese Platte, genau die richtige zur passenden Zeit!