Eros In Arabia was originally self-released in 1981. Full of sustained harmonies and supernatural winds. Whispering ancient tales of heroes and heroines. Twisting chimes and percussion. Distorting into an Industrial mystic. Rhythmic chant colliding with bar room piano and harpsichord. Increasing in frequency, gamelan-like. Machines melting the hammered gongs to mercury. Steel screams and close mic`ed stress fractures. Ladies and gentlemen, Mr. Richard Horovitz!
Marc Copland is one of those pianists who is forever on the road to new discoveries. He never seems to go for the obvious thing; he is simply incapable of playing a lick. A supple and elastic player who can be surprisingly muscular at times, he is also one of the most melodic pianists on today's scene. He is one among a shortlist of players who, over the years, have honed their unique voice in an overcrowded field of post-Evans sound-alikes.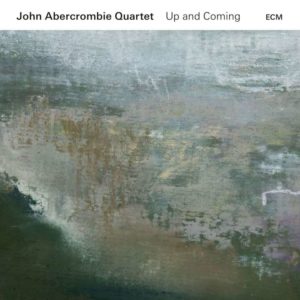 I believe in Zufall (chance). I guess it was before 1995 when I became aware of Marc Copland, so it was just the same time when Brian met the music of Marc Copland. It was the time when the internet stepped out from governmental, universitary or military institutions to conquer the world and knit a world wide web. How did it happen that I heard Marc Copland in older days? You know (or even not) that German TV-stations didn't broadcast a full 24-hour-program then. The station 3sat for example showed overnight only Teletext, underlaid by Jazz and some additional information about the presented tune. One morning I listened to an electrifying Piano Trio, Marc Copland treating the keys, as I could read. Two Way Streetis the title of this fine album, starting and ending surprisingly muscular.
This is a love-it-or-leave-it-hour about the music of Flying Saucer Attack. David Pearce and his lo-fi-aesthetics don't mess with modernity, persona, technology – and create a world full of distant echoes. His unexpected return in 2015 with the album "Instrumentals 2015" didn't deliver anything different, except the fact that it WAS different, in the most subtle ways. Turn on the volume, and lose yourself in a twilight world of distortion and disturbing beauty. This is the end of campfire guitar romance in the British pop culture, so to speak.
Hier nun die Musik aus der Grauzonevon 1981. Eine C-60-Cassettenveröffentlichung von Asmus Tietchens, deren Auflage und genaues Veröffentlichungsdatum nicht mehr feststellbar ist. Die Parallele zu frühen Cluster-Aufnahmen drängt sich auf, harsche Klangflächen beherrschen zunächst das akustische Bild. Rhythmus, wenn überhaupt vorhanden, wird durch die Verwendung eines Echogerätes erzeugt. Doch die akustischen Landschaften verändern sich langsam aber stetig, bis der Cluster-Eindruck am Ende verschwunden ist und ein eindeutiger Tietchens vorliegt. Hauptinstrument ist der Moog Sonic Six. Plattenknistern mischt sich in die Kulisse, unverständliche, teils elektronisch verzerrte Wortfetzen tauchen auf, ein sich überschreiendes Saxophon, dessen Herkunft ebenso unbestimmt bleibt wie das gelegentlich hineingehämmerte Klavierspiel.
Wir wussten, dass in Deutschland Zauberer unterwegs waren, manche hatten magische Pilze, andere makriobotische Ernährung im Repertoire. Bei der Volksmusik konnten sie nicht fündig werden, die Eltern sprachen von Hottentottenmusik, und die von ihrer Nazizeit Heimgesuchten fanden kleine Fluchten in Bella Italia, in deutschen Schlagern – und Fleischfondues incl. Diashows und James Last. Deutschland wollte ja wieder unschuldig werden und wählte die Regressionen, die schlechter Geschmack und gut gefüllte Geldbeutel eben möglich machen.
Er war gerade sechs Jahre alt geworden, als er zum ersten Mal allein in die Innenstadt fahren durfte. Zunächst galt es zur Straßenbahnhaltestelle zu schlendern und dann zu hoffen, dass eine alte Straßenbahn kommen möge, die mit den Holzsitzen und der langen Lederschnur unter dem Straßenbahndach, an dem der Schaffner kräftig ziehen musste, um ein schrilles Läuten auszulösen, was dem Fahrer bedeutete, dass er nun abfahren durfte. Diese alten Bahnen, die 1959 manchmal noch durch Hannover fuhren, hatte er ins Herz geschlossen. Und tatsächlich, an diesem Tag kam die betagte Bahn mit der Nummer 5. Er kaufte beim Schaffner eine Kinderfahrkarte und los ging es bis zum Aegidientorplatz. Dort führte sein Weg zunächst zu einer Filiale der Firma MOST.
Mit vertrauten und fast vergessenen Magiern der "Deutschen Elektronischen Musik" hat Soul Jazz Records jetzt eine dritte Kompilation rausgebracht, zwei CDs, drei Vinylscheiben. Krautrocker, Sphärenforscher, Trancegroover – die Palette der Jahre 1971 bis 1981 war ein üppiger Strauss der Vielfältigkeiten. Vieles wurde durch die Zeit an den Rand gedrängt, dabei hält der Underground jener Jahre immer noch  wilde, und nicht nur wohlige, Schauer parat.
Bis 1999 konnte man bei MOST edle Süßigkeiten kaufen, Ende der fünfziger Jahre, da gab es die Firma schon 100Jahre, bekam man zumindest hier in der hannoverschen Filiale für ein paar Groschen ein große Tüte Süßigkeiten-Bruch. Weiter führte der Weg des Jungen an den Mercedes-Benz-Ausstellungsräumen vorbei, magisch angezogen von den wunderschönen Autos, konnte er sich von den Schaufenbstern kaum lösen. Dann am Theater-Am-Aegi entlang – das Theater sollte 1964 in Flammen aufgehen und ein riesiges schwarzen Loch hinterlassen, was den Jungen stets in Schrecken versetzte – in die Maschstraße.
Und so driftet man durch allerlei Welten hier, zwischen willkommenen "Dejavus" und augenreibenden "Was-ist-das-denn-Momenten". Ich gestehe, mehr als ein breites Grinsen fiel mir nicht ein, als ich, im Laufe dieser zwei Stunden (am Stück im Dunkeln gehört, mit Kiff, Ananas und Kerzenschein) zwei lange Tracks von Michael Bundt lauschte. Ich kannte nicht mal den Namen. Stuart Baker liess im übrigen, als die Archäologen im Londoner Hauptquartier den letzten Staub aus den Regalen gefegt hatten, seine Designabteilung wissen, das sei nun nicht mehr zu steigern, und sie mögen auf das geplante Cover noch einen Untertitel platzieren: "That's All, Folks!"
Hier gab es nicht viel Interessantes zu schauen, außerdem war diese uninteressante Straße auch noch sehr lang, bis sie dann schließlich in die Meterstraße mündete. Hier, auf dem Gelände einer Schule waren die Übungsräume des Knabenchor Hannover, dem der Junge nun angehören sollte, untergebracht. Er hat das Singen im Chor gemocht, sehr sogar, aber die Fahrt und der Weg dorthin und wieder zurück, nach Hause, das war für ihn einfach nur großartig und er freute sich immer darauf, allein unterwegs zu sein.
The most exhilirating of my recent time travel activities has been the return of "Twin Peaks", 25 years after leaving Agent Cooper in a disturbing trap. 18 episodes rush over you with the inventiveness of radical cinema, anti-nostalgia (what an ability to disappoint our expectations – and then to fulfill at least some of them when we are ready to give up) – and an even higher level of bleakness that can only be handled with a big step into surrealism, dream territories, and some fleeting moments of relief.
Da ich mein Aufnahmegerät nicht länger als 45 Minuten allein lassen kann, höre ich Michaels Sendung seit einigen Monaten komplett live mit, diesmal zum ersten Mal die ganze Zeit über Kopfhörer, was ein leichtes outlaw-Gefühl verschafft, wenn ich den Lautstärkeregler nach oben drehe. Ich bin von einer Begeisterung in die nächste getaumelt.  Die Retrospektive von Flying Saucer Attack etwa!  Ich mag solche Rückblicke, Spurensuche, und habe mir von Flying Saucer Attack fast alles bestellt, was ich noch nicht hier hatte. Manchmal denke ich an Gregors Satz, dass Musik überlebensnotwendig ist und wie er es gemeint hat oder eher, wie ich es verstehe. Es klingt pathetisch, aber wir wissen, dass es so funktioniert: Das aufmerksame Zuhören, die Konzentration auf eine musikalische Arbeit, die uns im Innern berührt, bewirkt, wie jede gelungene Kunst, eine Transformation.
Als 1990 klar war, dass dank intensiver Untersuchungen der amerikanischen Wirtschaftsberatungsfirma McKinsey, die beiden Kulturprogramme des Südens aus wirtschaftlichen Gründen zusammengelegt wurden, da verabschiedete sich Achim Hebgen tief enttäuscht von dieser kulturellen Entwicklung während einer seiner Sendungen sehr persönlich. Über 60% der Jazzsendungen seien dem Rotstift zum Opfer gefallen, auch das Format MUSIC AVENUE. Während der letzten Sendung der MUSIC AVENUE beklagte Hebgen öffentlich diese Entwicklung und legte dann eine Platte auf, die diese Sendung für immer beenden sollte. Diese letzte Platte hatte es mir damals angetan. Überhaupt, der Gedanke, einmal eine letzte Platte, ein letztes Musikstück zu hören, welches Stück könnte das sein und wird es dann letztlich wohl sein? Hebgen jedenfalls legte eine Schallplatte von John Surman auf: "Road to Saint Ives" und wählte das Stück "Tintagel", ein Stück, das seit vielen Jahren zu meinen liebsten zwanzig Stücken gehört (meine Lebenshitparade).
Mein neuer Drucker führte mich in die Versuchung, alle meine Posts seit 2014 zu materialisieren. Jetzt liegen 4 gebundene Teile meiner Schaffensschreiberei auf dem Tisch. Mein Schöpfernarzissmus ist zweifelsfrei befriedigt. Bei so manchem Beitrag wäre ich auch froh, er wäre nicht von mir. Trotzallem ist die Relektüre ein fröhlicher Genuss, auch wenn er nichts mit dieser Wissenschaft zu tun hat.