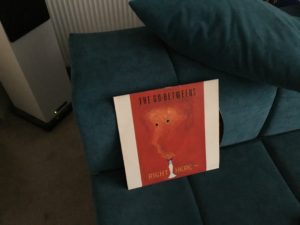 G
Winter is coming. One of the finest song collections of recent months comes from a man who has seen a lot and something to tell, in his biography worth the time and every dime. But apart from that Jeff Tweedy, mastermind of Wilco, is about to release a "joyful, celebratory" song cycle, at least, that's what George Saunders is writing in the album's accompanying essay. Well, joy!?
Maybe, if you take joy and interrogate it to the point where it forgets how to dance. "Warm" is something else, tougher, but no less valuable. It's a tender manifesto of self-doubt, a shout fading into a murmur. It goes out as it comes in with a singer lost in a dark mantra. "I don't know", he sings sounding just OK with it.
In 1968 The Kinks released The Kinks Are The Village Green Preservation Society, an album curiously closer in spirit to a by-gone era than to the more familiar rock 'n' roll preoccupations of the day. While his contemporaries were revolting in style or getting mystic, Ray Davies spent much of the summer putting together a concept album steeped in nostalgia for an 'Olde England' of corner shops, custard pies and steam trains.
Ray Davies surely loves or would love one of the Go-Betweens' "evergreens", the rural reflection of "Cattle and Cane". After the insightful and captivating book of Robert Forster about  the story of his peculiar friendship with Grant McLennan, "Right Here" is a very fine document of the band's history. It takes its time, and is not rushing through history.
Right Here opens with Forster walking down a country road, holding a guitar case, while a voiceover from his much younger self describes the band's music as "like running water off thin white strips of aluminium". A voiceover from co-songwriter Grant McLennan is, typically, much more practical: "We're not a trendy band, we're a groovy band, and I like that."
Reviews on movies and books often make a big mistake. They are giving away too much of the stories told. This is ridiculous, but part of the game of telling the people "from an expert's point of view" what they have to expect. Now, everybody is a critic today, so, sorry to say, 80 percent of crime novel reviewers do a terribly bad job by mirroring plot lines instead of inner mechanisms. One alternative is shortness. Raw sentences. See the short look at Bill Beverly's bleak novel Dodgers. The other one is a spoiler-free essay, as the one written on the brilliant second season of The Sinner. And, yes, alternative 3: parallel reading adventures Mana-style. Take your time, winter is coming.