Das bislang beste Album des Jahres 2018 kommt aus den ersten Septembertagen des Jahres 1973 und heisst "Roxy". Kurze Zeit nach der Aufnahme des Klassikers "Tonight's The Night" wird das dunkle Material live dargeboten, unendlich inspiriert, und mit einem Neil Young in durchaus humorvoller Stimmung. Die Schwärze der Songs dringt dennoch durch, diese Lieder waren von Anfang an Rohfassungen, und blieben Rohfassungen, auch wenn sie früh schon ins Rollen und Rocken kamen.
Das Foto einer Favoritin auf der Zeitreise in die Lyrik der 1970er Jahre. Gut, dass ich nicht der Lover aus einem ihrer Texte war, der mit dem "ausgeleierten Arsch". Als ich ihren ersten Gedichtband las (in dem einzigen Jahrzehnt, in dem ich mich brennend für Gedichte interessierte), lief bei mir "801 Live" auf dem Plattenteller. Im "Zündfunk" war es das Album der Woche. Hätte ich einfach mal begriffen, dass die 1970er Jahre kein Ende kannten, wäre ich immer noch dort unterwegs.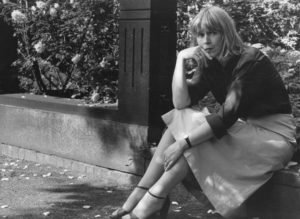 Ein anscheinend hinreissendes Album, das ich nicht kenne, stammt von Milton Nascimento und Lô Borges, "Clubo Da Esquina". März 1972. "Casual and inspired, studied and spontaneous, the album is Pet Sounds, Innervisions and The White Album all rolled into one and it remains beloved even for those who know just a few Brazilian albums." Naja. Grosse Worte, gelassen ausgesprochen, in einer vor Tagen gelesenen, langen Pitchfork-Besprechung. Drei Stücke auf youtube wecken meine Neugier, wegen des Patchworks, des Gesangs, und der starken Melodien. Da verkrafte ich auch eine elektrische Gitarrennummer aus der Mottenkiste.