Stephan Thelen sandte mir das Album VORTEX seiner Band SONAR gerade noch rechtzeitig, nun sind alle manafonististischen "Alben des Monats" versammelt. Die Nacht beginnt, nach dem Krimi, wie immer, mit zwei Stunden randvoll mit neuen Produktionen. Die üblichen Verdächtigen können immer noch in ihren Bann ziehen, und laden durchweg zum Lauschen, der Gegenwelt des flüchtigen Reinhörens.
Sehen Sie sich das Foto an: Nils Okland und Sigbjorn Apeland setzen über zur Insel Lysøen, um den Spirit des einst berühmtesten Geigers ihres Landes, Ole Bull, zu beschwören. Die "Hardingfele", wie Oklands Hauptinstrument heisst, gibt den Ton an in der dritten Stunde, der Nahaufnahme der Klanghorizonte, zwischen Freitagnacht und Samstagmorgen im Deutschlandfunk.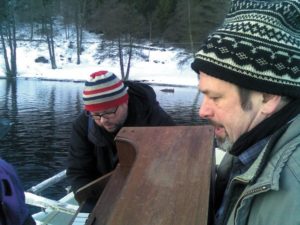 "Pools of sorrow, waves of joy, are drifting through my opened mind", schrieb John Lennon einst, und diese Zeile könnte sich morgen im Äther herumtreiben. In den beiden Zeitreisen zum Ende der Nacht, erinnere ich an den jüngst von uns gegangenen Pianisten Misha Alperin, und um eines seiner radikalsten Alben herum spiele ich Musik, die sich luftig zwischen Trancesession und Grenzgängerei bewegt, neben Klassikern gibt es ein wieder aufgetauchtes Album aus dem französischen "Chanson-Underground" der frühen 70er Jahre, und, vielleicht, einen Song aus Gregs Jukebox.
In der Stunde nach dem ersten Hahnensschrei schliessen und öffnen sich gleich mehrere Kreise (das passiert schon vorher permanent – Vorsicht: Dejavu! – man denke an Steve Tibbetts' Begegnung mit der Hardanger Fiedel) – Jon Hassell begegnet seinem jugendlichen Ich anno 1978 in New York und erinnert sich an Italo Calvinos Buch "Die unsichtbaren Städte".