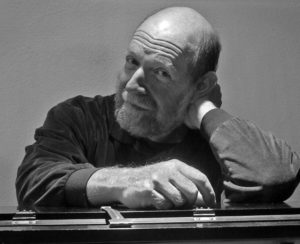 (This is the 2nd article in a series of pieces devoted to jazz pianists I consider to be highly underrated: )
The first time I saw Art Lande with the Rubisa Patrol was in of all places, Cotati California, a small college town about 45 minutes from San Francisco. I had brought my fiancée and was sitting with her in the legendary Inn of Beginning, trying to explain to her what she was about to hear. I remember telling her that the music was lyrical, but there was also an unpredictable wackiness in his approach, and at times his music could get very weird. A few minutes later Art and the band appeared on stage. This was the original ECM band consisting of Bill Douglas on bass, Mark Isham (who went on to become a solo artist and well known film composer,) on trumpet, and Glen Cronkite on drums. Art was sitting at this old, funky upright piano on the stage where rock greats such as Neil Young and Van Morrison had recently made impromptu appearances. Art turned to the small audience and said, "I'm Art Lande, this is the Rubisa Patrol, and I hope this music isn't too weird for YOU!" And he pointed right at my fiancée. 
What I most remember from that night is Bill and Mark playing a duet on two shakahachis, which suddenly morphed into a samurai sword fight. At one point the music was so fierce, the keyboard lid fell, almost squashing Art's hands. Art immediately responded by deliberately banging the lid up and down as a kind of impromptu percussion instrument. This clever adaptation captures the essence of the man, who is able to be present and creatively respond  to musical happenstance with lightening quick reflexes.
Although I never took a formal lesson from him, Art has been a kind of mentor to me over the years. I have probably seen him live more than any other pianist. In fact, I just saw him play a marvelous Mothers Day concert last Sunday with the irrepressible singer/songwriter Kate McGarry and her guitarist husband, Keith Ganz, (who has to be one of the most underrated guitarists on the planet- check them out.)
What draws me to Art's playing is his originality and spontaneity. I've listened to the man live and on record for over 40 years, and I don't think I've heard a single "lick." If one goes all the way back to his (vinyl only) first release, The Eccentricities of Earl Dant (an anagram of his name,) one finds his original style already evolved to the point of being recognizable as pure Lande: the lyricism, the idiosyncratic humor, the rhythmic drive, odd clusters, lines that dance, swirl and unexpectedly veer towards the edge of tonality, yet always evincing the trademark warmth and humanity that makes Art so unique. 
His harmonic concept is obviously influenced by Monk as well as Bill Evans, but equally influenced by classical composers, such as Bartok, Bach and Debussy, not to mention his studies with composer/performer/writer, W.A Mathieu. He is listed in Wikipedia as one of the founders of what is known as "chamber jazz." Knowing Art, I'm sure he would hate that label, because it truly limits the scope of his musical curiosity and invention, which has led him down many paths, often away from the ECM sound he was most known for in the late 70s. 
Art only made a few albums for ECM. The first was a duet album with Jan Garbarek. Red Lanta (1974 – the title is another anagram of Arts name,) is a landmark album in the classic chamber jazz mold. The tunes are airy and light on the surface, yet reveal hidden depths –  this intimate recording captures a casual rapport between these two great players, both of whom had a signature sound right out of the gate. Years after it's release, upon mentioning the album to Art, and telling him how much it meant to me, his response was, "Oh, that old thing?" 
The two Rubisa Patrol albums are ECM classics. The writing is mostly Art's, and it certainly fits into the chamber jazz setting. After that, Art was the featured pianist on Gary Peacock's Shift in the Wind, a trio album with drummer Elliot Zigmund. A far more energetic album with some free play interspersed with Gary and Art's compositions, I consider it to be among the best trio albums in the early ECM catalog. There was also an experimental record with Mark Isham, entitled We Begin. Combining Art's piano with Mark Isham's trumpet and synthesizer skills, it's somewhat of an oddity, but one that grows on the listener with repeated plays – in retrospect, while the 80s synth sounds date it somewhat, it's still a very forward looking recording in many respects.
I consider the album, Skylight to be one of the finest examples of "chamber jazz" in the entire ECM catalog. Here the trio, consisting of Lande, Paul McCandless and vibist Dave Samuels pick up where they left off on McCandless's first solo release, All the Mornings Bring (Vanguard – a great recording, finally released on CD), with more of the same: superb compositions and incredibly intuitive ensemble playing. I consider both of these albums to be essential listening in this genre. 
Seeing Art live, one never knows what to expect. Back in the late 70s, Art would sometimes hold court at the Great American Music Hall for several nights, each night having a different theme. One night it was lyrical duets with Paul McCandless (it's amazing that after decades of performing together as a duo, Paul and Art have yet to release a duet album), the next, the Rubisa Patrol playing nothing but waltzes. Another night there were mattresses and blankets on the floor; the lights were down low onstage and everyone in the band was lying down. Occasionally, a somnambulant figure would rise in the darkness and sleepwalk to an instrument – slow abstract lullabies emerged. 
Art is also a literary kind of guy. He often reads poetry aloud while improvising. Sometimes, he just makes stuff up. I remember a night where he told a spontaneous tale of an alien sneaking into a house and raiding the fridge- his alien voice was hysterical. On rare occasions he has been known to sing one of his own humorous and quirky songs.
Eventually Art left the Bay Area for Switzerland where he was active as a teacher and performer for a number of years. For some reason that period isn't documented by any recordings I am aware of. He was no longer with a label at that point – in fact he has continued to be an independent artist to this day. Art eventually returned to the states where he made his home in Boulder Colorado. At 71, he has been more active than ever – he currently plays in at least 6 bands and still records and tours regularly.
Art likes to pair up with young musicians – occasionally as the drummer rather than pianist. One such band is called the Russian Dragon Band (Rushing/Dragging – a drummers joke?) Another group with Art in the drummer's seat is the Boy Girl Band, a group entirely  devoted to playing completely improvised music.  He is also featured on drums in the experimental group Funko Moderno, a postmodern band that plays music that supposedly originates in the fictitious country of "Italavia." It's a premise that allows for funk, bebop, tongue in cheek jazz themes and Slavic music influences to collide in unpredictable ways.  
Art also guests on countless albums. One such example is Sioux Country, by sax player/educator Pete Sommers – It is a fine duo album. Featuring Pete's compositions, it's not unlike Red Lanta in tone, although it feels distinctly American, coming as it is from the southwest. Art also has an ongoing series of free improvisation recordings with sax player, Mark Miller. Seeing the two together live, one can expect an evening of musical mayhem. Occasionally, Art will whip out his trusty melodica and perform as a 2nd horn player. The two are good friends – it's an anything goes musical situation that often becomes comically theatrical.
Art has also had a special musical relationship with French/Vietnamese guitarist/composer Nguyen Le. Appearing in the mid 80s on both of Le's first two albums (Universal – both excellent) , Miracles and Zanzibar (with Paul McCandless), and his superb ACT recording, Walking on the Tiger's Tail (also with McCandless,) there is an electric current running between these two distinctly unique artists – their highly contrasting styles and temperaments seem to bring out the best in one another. In 2008, while recovering from a bad breakup, I took a trip to the southwest where I followed Art and Nguyen Le on their mini tour of the Southwest. The first concert of the tour was a house concert in Boulder. I remember sitting in a small living room crammed with around 12 guests, looking at a grand piano and next to it, an electric guitar, a MacBook Pro on a music stand and on the floor, a pedalboard filled with blinking lights – I asked myself, "How on earth is this going to work?" What followed was a surprising mix of atmospheric sounds, ambient jazz, and world music. It was a magnificent, unforgettable performance. 
That's the thing about Art Lande: he has an insatiable musical curiosity. His work embodies the perfect balance of freedom and form. He supports creativity in others and loves to collaborate. His collaborations even go beyond his musical associations: In 2011, with the help of two graphic artists and an editor/writer, he created his own tarot deck. The "Art tarot" is the fruit of decades of study and 6 years of development. The goal was to strip away the medieval archaisms of the original decks, cutting to the essence of the archetypes and energies represented by each card. If you're interested in tarot as a tool for self transformation, it's worth tracking down. 
Art's albums are worth tracking down as well. Unfortunately, they're  not always easy to find. Art cares not a whit about self promotion. He never speaks of new releases – he doesn't use the internet at all. The only way to find new music by this artist is to visit his website (which he proclaims he has nothing to do with,) or do a Google search. Besides the ones mentioned in the article, I also recommend checking out the following:
Melissa Spins Away (vinyl only,) Great American Music Hall label, solo piano (an album of jazz waltzes – gorgeous.)
Friday the 13th- Vartan Jazz, music of Monk-solo piano  (very cool album- was supposed to be a live album but something went wrong and wound up recorded live in the studio.)
Shapeshifter- Synergy Music- original compositions, with Paul McCandless, Peter Barshay and Alan Hall
Recurring Dream – Mike McGinnis with Art and Steve Swallow (they just released a followup album)
Nemesis- Songlines- Mark Nodwell, Drew Greiss, Tom Rainey, Doug Young, Ron Miles (Marc Nodwell's compositions are notable and it's an SACD)
Polar Opposites- Dave Peterson guitar, Art Lande piano (good guitar player, nice tunes. Mostly duos, but I think theres a rhythm section on a few tunes as well.)
For a complete discography of Art's recordings both as leader and sideman, including the aforementioned bands and albums, (some of which are only available as download on his site) and touring schedule, check out www.artlande.com