Damals hieß er noch Südwestfunk, der SWR, als Achim Hebgen mit gerade einmal 27Jahren in die Jazzredaktion des Senders eintrat, Joachim Ernst Berendt war sein Chef. Wie Berendt, war auch Hebgen nicht nur am Sender tätig, sondern bei zahlreichen Musikproduktionen beteiligt, bei MPS zum Beispiel. Die wunderbare Platte "Got The Blues" von Don `Sugar Can´ Harris (mit Kriegel; Rypdal, Dauner, Whitehead und Robert Wyatt!!) wurde von ihm und Berendt gemeinsam produziert. Er arbeitete ferner bei den Berliner Jazztagen, dem Free Jazz Meeting Baden-Baden und den Donaueschinger Musiktagen mit.
Ich erinnere mich, 1978, in einer seiner Sendungen zum ersten Mal von Philip Catherine gehört zu haben, auch legte er gerne Gianluigi Trovesi auf, den ich durch seine Sendungen zu schätzen lernte. Übrigens, dessen Album "Round About A Midsummer's Dream", wurde im Jahre 2000 von Hebgen produziert.
Achim Hebgen liebte, wie Michael Engelbrecht, Sendungen mit weitem, sehr weitem Horizont, er erfand für den SWF die Sendungen RADIOPHON (noch heute im SWR zu hören) und MUSIC AVENUE.
Zwischen 1991 und 2002 leitete er dann die Jazzredaktion. Das waren schwierige Zeiten damals, denn SDR und SWF wurden 1991 zur Fusion ihrer beiden Kulturprogramme gezwungen, aus SDR 2 und SWF 2 wurde dann S2 Kultur. 1998 entstand dann ein neuer Großsender, der SWR.
Als 1990 klar war, dass dank intensiver Untersuchungen der amerikanischen Wirtschaftsberatungsfirma McKinsey, die beiden Kulturprogramme des Südens aus wirtschaftlichen Gründen zusammengelegt wurden, da verabschiedete sich Achim Hebgen tief enttäuscht von dieser kulturellen Entwicklung während einer seiner Sendungen sehr persönlich. Über 60% der Jazzsendungen seien dem Rotstift zum Opfer gefallen, zahlreiche Sendeplätze aus dem Bereich NEUE MUSIK ebenso, auch das Format MUSIC AVENUE. Während der letzten Sendung der MUSIC AVENUE beklagte Hebgen öffentlich diese Entwicklung und legte dann eine Platte auf, die diese Sendung für immer beenden sollte. Diese letzte Platte hatte es mir damals angetan. Überhaupt, der Gedanke, einmal eine letzte Platte, ein letztes Musikstück zu hören, welches Stück könnte das sein und wird es dann letztlich wohl sein?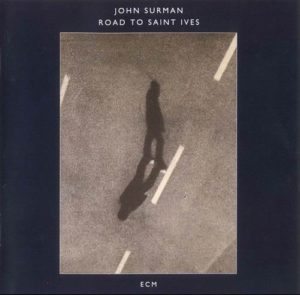 Peter Rühmkorf schrieb am 13.12.1989 in sein Tagebuch: "Eigentlich schade, wie viele Bücher wie einmal unaufgeschlagen an der Grabeskante zurücklassen müssen …". Recht hat er, ich bedaure das auch schon jetzt. Mir fällt allerdings noch ein anderer Gedanke dazu ein: "Wie viele Musikstücke müssen wir wohl ungehört an der Grabeskante zurücklassen?"
Zurück zu Achim Hebgens MUSIC AVENUE und zurück zu seiner letzten Schallplate in dieser Sendung. Er legte eine Schallplatte von John Surman auf: "Road to Saint Ives" und wählte das Stück "Tintagel", ein Stück, das seit vielen Jahren zu meinen liebsten zwanzig Stücken gehört (meine Lebenshitparade).
Achim Hebgen starb am 25. September 2012 in Freiburg, er wurde 69 Jahre alt.
Ihm eingedenk höre ich jetzt "Tintagel", lege zuvor aber noch eine ganz neue Scheibe auf, die ihm sicher sehr gefallen würde (aber freilich nicht alle Stücke, manche sind schrecklich, wie ich finde). Nils Frahm und "All Melody", von dieser Platte werde ich "My Friend the Forest" und "Harm Hymn" hören.