Manchmal denke ich, dass ich doch irgendwie Passageriten brauche wie kaum jemand. So stellt für mich beispielsweise der erste Plattenschrank eines neues Jahres, der erste Beitrag im noch jungen Januar eines Jahres doch etwas ganz Besonderes dar. Ein kleiner Rückblick: Im letzten Jahr habe ich als ersten Beitrag György Márta Kurtág: "In memoriam Haydée – Játékok, Games and Transriptions" vorgestellt. Im Januar 2016 war Thema das alte Jahr 2015, genauer der 31.12.2015 23:59:59 Uhr. Das alte Jahr verging nämlich mit dem Lauschen der letzten Minuten des Deutschlandfunks auf der Mittelwelle. Als angemessene Hörquelle hatte ich mir meine Musiktruhe Nordmende Arabella Stereo aus dem Jahre 1958 ausgewählt. Das neue Jahr sollte nun mit einer ganz besonderen Platte eingeläutet werden, der einzigen Langspielplatte, die ich damals mit voller Absicht zweimal besaß: Beatles: Sgt. Pepper´s Lonely Hearts Club Band. Inzwischen wird sich ein jeder denken können, dass ich diese Platte seit 2017 nun ein drittes Mal kaufen musste. Die Geschichte des Kaufs der ersten Platte habe ich damals im Januar 2016 erzählt.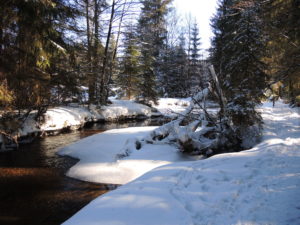 Im Januar 2015 fischte ich drei Platten von Chet Baker plus eine rare Aufnahme des Oscar Peterson Trio Meets Coleman Hawkins – Live In Hannover 1967 aus dem Plattenschrank.
Übrigens, damals im kalten Monat Januar war es, da sagte Michael in einem Radiointerview auf die Frage des CBC-Reporters: Michael Engelbrecht, haben Sie heute einen Song entdeckt, der ihre Stimmung deutlich hebt? ME: Meine Stimmung war war schon ziemlich gut, aber dann hörte ich "The Everlasting Muse". Keine Ahnung, wovon der Song handelt, aber er wirkte wie drei Ohrwürmer auf einen Streich. Auf der einen Seite ein Flair der Swinging Sixties, auf der andern noch ein paar Dejavues obendrauf, trotzdem wirkte es unheimlich erfrischend.
CBC: Von wem ist der Song? ME: Von dem neuen Album von Belle and Sebastian.
Michael meinte das Album Girls in Peacetime Want to Dance. Was für ein Zufall, gerade eben, im Januar 2018 erschien eine neue Single diese Gruppe: The Same Star. Ob sie Michael gefallen würde? Ich nehme mal an eher nicht, viel zu glatt, ohne jede Überraschung, eher auch kein Ohrwurm.
Januar 2014 dann: Die erste CD, die ich am Neujahrstag in meinen Player geschoben habe, das war meine erste CD überhaupt. Hatte ich mich jahrelang erfolgreich geweigert, diesen Bedarfsweckungswirtschafts-Wahnsinn mitzumachen und mir keinen CD-Player und keine CDs gekauft (never ever!!!), war ich mit Erscheinen dieser CD dann eben doch weichgeklopft worden. Es handelte sich um eine CD von Paul Bley, Jimmy Guiffre und Steve Swallow, sie hatten am 16. und 17. Dezember 1989 in New York unter dem famosen Produzenten Jean-Jacques Pussiau von OWL-Records jeweils The Life of a Trio: Saturday und The Life of a Trio Sunday aufgenommen und 1990 auf den CD-Markt gebracht, als LP erschienen diese Aufnahmen nicht. Es folgte in den folgenden Wochen hier auf manafonistas.de  dann eine dreiteilige Serie über Paul-Bley-Veröffentlichungen.
In den siebziger Jahren, da gab es in der Tübinger Hirschgasse Nr. 5 das Musikhaus Armin Keller noch. Keller war in Tübingen eine bekannte Musikergröße, er spielte Schlagzeug, gab Unterricht und betrieb einen Laden mit einem Kellergewölbe, in den man hinunterstieg und am liebsten gar nicht mehr nach oben wollte, denn dort unten lagerten unglaubliche Schätze, Schallplattenschätze, einige von ihnen stellte ich im Januar 2013 vor:  Volker Kriegel: Missing Link // Blues for Allah: Grateful Dead // Nitty Gritty Dirt Band: Symphoniion // David Bowie: Young American // Lindisfarne: Titel Roll on, Ruby // Beck-Ola und Truth von Jeff Beck.
Charlie Haden und Hank Jones kamen mit ihrer neuen Platte Come Sunday zwar erst am 24.02.2012 auf den Markt, ich konnte sie allerdings bereits in den ersten Januartagen begeistert vorstellen, war sie doch auf npr.org unter der Rubrik first listen bereits schon Anfang Januar zu hören.
Im Januar 2011 gab es manafonistas.de noch nicht, diese Seite wurde erst im April 2011 eröffnet.
Bleibt nun endlich der Januar 2018.
Das erste Musikstück, das für mich das neue Jahr 2018 quasi einläutete, entstammt einer CD, die ich gerade erst am 30.12.2017 vom Plattenhändler meines Vertrauens geschickt bekommen hatte:
Morton Feldman: For Bunita Marcus; am Piano: Marc-Andrè Hamelin.
Auf dieser Seite findet man eine interessante Werkeinführung vom Morton Feldman selbst. Das Stück wurde 1985 vollendet, dauert 75 Minuten lang und wurde 2017 von Marc-André Hamelin neu eingespielt. Über seine erste Begenung mit dem Stück schrieb er: "Als ich mich zum ersten Mal ans Klavier setzte, um Feldmans Stück durchspielen, überkam mich gleich ein Gefühl von Befreiung. Es geht hier nicht mehr um den Künstler, die Aufführung, das Darstellen pianistischer Virtuosität, den gesellschaftlichen Anlass. Wir haben es nun ausschließlich mit Klang, Zeit und Raum zu tun."
Eine wunderbare Neueinspielung, die ich hier nur sehr empfehlen kann.