Last night I went to see Detroit, the new film by Kathryn Bigelow (aka the only woman to receive an Academy Award as a director in 89 years of Oscar history, which is why she is sometimes referred to as the most successful female director in history). I have seen almost all of her films, and I really like her body of work, I think she is a brilliant director. She is not only a storyteller or a movie director, but also a film artist, which I could at length constitute by talking about Zero Dark Thirty, which, in my opinion, was generally critized for the wrong issues.
I just read an article in The New Yorker, in which the author makes some statements that are definitely well worth discussing. Detroit is applaudably and masterfully directed, including the collaboration with cinematographer Barry Ackroyd who should at least get an Academy Award nomination for his work on this film. [As a side note, however, it should be considered a scandal if the award for best cinematography will not be given to Roger Deakins for Blade Runner 2049, considering this phenomenal director of photographer has been nominated 13 times so far, without receiving the award once; I think no-one has been nominated more often unsuccessfully. (Emmanuel Lubezki just received the award three times in a row.)] The visuals and the storytelling in Detroit are captivating from start to end, and the film provides for such an intense experience that at one point I was close to leaving the cinema, because I felt I could not bear it any longer; I don't remember if that ever happened to me before. Maybe once.
In a way, that is actually what the article in The New Yorker, titled "The Immoral Artistry of Kathryn Bigelow's Detroit" discusses and critizes at length about the movie. These thoughts are far from being new ones. At film school, we discussed them in the first year of our studies, starting with documentaries from the 1920s, and I remember discussing them again in a directing workshop in a later year of my studies: It was Jacques Rivette who famously raised the question in the June 1961 edition of Le Cahiers du cinéma, in his essay "On Abjection" about Pontecorvo's Kapò. Rivette's argumentation specifically referred to a tracking shot in that film, where Emmanuelle Riva in her portrayal of a concentration camp prisoner throws herself onto an electric barbed wire, and this suicide is emphasized – to enhance the action's emotional and dramatic storytelling effect – by a tracking towards her, from a low perspective, an aestheticization of death. Rivette called this a "cinematic obscenity", "voyeurism" and "pornography" and argued that this approach should be despised – and that the atrocities of the Holocaust are not suitable for a film of fiction. Other film critics have also commented on this, stating that it is the unnecessary love story which spoils the generally powerful film.

Back to Detroit, about which it is easy to point out a very similar criticism. So I recommend reading Richard Brody's essay (which I mostly disagree with). The same comments have been made about Spielberg's Schindler's List, maybe rightly so, and at the time I was watching Detroit, I actually did expect these criticisms would surely made by film critics about the film. I am only somewhat surprised to see them coming from an American magazine instead of from one in Germany, where "based on a true story" movies with fictionalized elements are frequently being condemned by critics for their lack of historic accuracy (examples abound).
I would argue against Brody's essay that it is sanctimonious of him to set the premise "Movies aren't made with intentions" as a starting point for his line of argumentation. I'd say that is nonsense – in particular as later in his text he reaches the conclusion that Kathryn Bigelow would not express an opinion with her film. That kind of writing is one of the main reasons why I often have difficulties with film critics. Critics often pursue their own agenda, which is a different one than the filmmakers' intentions, and they seem to enjoy doing that. I also read this very interesting interview with the director (German only, sorry), where she says (among many other interesting statements), "I don't understand how one cannot denounce white supremacy. It is more than bewildering and disgraceful." [Please excuse my translation of the original interview's German translation back into English.]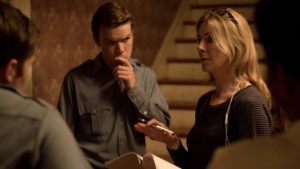 Does the New Yorker author act stupid on purpose or does he actually have no clue about what goes on on a movie set, when he imagines over two or three paragraphs what went on in the mind(s) of the filmmaker(s) during the making of these tense scenes? Well, it would of course make some sense, if he expanded the same critical statements to Quentin Tarantino or to any Hollywood director who directs a horror film (which, by the way, I would argue, Detroit could be counted as) or a thriller. Or almost any fictional movie, for that matter, regardless of whether there was a "true story" which inspired it. Even about The Act of Killing, which is generally counted as one of the most important films of this century. I have to assume that the author, to come to his conclusion, deliberately misdescribes the work processes the filmmakers and actors went through. Which is why I cannot take his criticism seriously.
Nevertheless, I find Brody's points in the earlier parts of his essay interesting enough, when he says that Bigelow and screenwriter Mark Boal are dealing with the story with too much of an outsider's view: They, in the first part of the movie, "treat the black residents of Detroit, whose lives they dramatize, as an indiscriminate mass of people." However, the movie as a whole piece of work – as a piece of art even – puts that in context, and I really like the unconventional way they decided to take to tell their story, in several chapters with varying means of storytelling and ways of execution. (They went for a somewhat similar chapter-like approach in Zero Dark Thirty.) You can't simply judge the first chapter of the film, even if the indisputably masterful visual directing in that "authentic style" can be debated. Bigelow justifies that (possibly) distanced pseudo-documentary view – or semi-documentary, if you count the authentic snippets of film she included – of hers an "outsider" (as not being a member of the black residents of Detroit, as a white narrator not having been involved in the actual events) with the rousing way she tells the story passionately and emphatically after its opening chapter. I don't think you can criticize her at the same time for using distancing narrative techniques and exploitation. I think that is hypocritical.