ANJA LECHNER y FRANÇOIS COUTURIER
11 de octubre. Jameos del Agua, 21:00 h.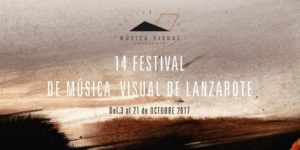 Certain things happen with a reason, though we're good in making sense  where pure chance is the real option. I didn't believe my eyes when reading about edition no. 14 of the Festival Musica Visual de Lanzarote. It happens now, and I'll be there. Anyone who has ever experienced a concert in the caves of Jameos Del Agua, knows about the fantastic acoustic space. Years and years ago, Brian Eno performed, along with Peter Schwalm, at the bottom of a volcano. Eberhard Weber and David Darling played solo in the very small cave nearby (the walk down there transports memories of reading Jules Verne's journey to the center of the earth), Bang on a Can performed "Music for Airports" in James Del Agua and brought the melancholia to the surface  that is part of Eno's classic, but can easily overheared in that kind of "functional music". The third meeting of the Manafonistas  at  the break of day has found a perfect afterglow, with two concerts on the opposite sides of intimacy and groove.
NILS PETTER MOLVÆR GROUP
14 de octubre. Jameos del Agua, 21:00 h.