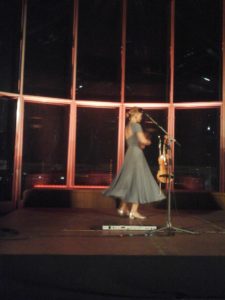 Skydeck, 19. Stock im Düsseldorfer Hafen. In einer Rechtsanwaltkanzlei. Was für ein F (f)all!
2 Violinen and all these loop tabs.
And there she is: Maarja Nuut. Sie ist jung, hübsch, sehr schlank, hat Birkenherbstblätter Haare und graublaue Ostseeaugen.
"UNE MEELES" heisst ihre neue, zweite CD auf Estisch – und wie auf Deutsch? Auf Englisch klingt das nach luzider Traumerfahrung:" In The Hold Of A Dream" … In dieser Welt lebt sie im Norden von Estland. Was ist Ihr Geheimnis? Maarja steht -singt, geht-spielt, tanzt-erzählt auf der Bühne. Ihr Aschenputtel grauer Plisseerock wirft Wellen über ihren Goldschuhen. Ihre Stimme schaukelt wie eine rostige Barke. Wie macht sie das? Sie erzählt auf Englisch ein Märchen aus den Wäldern von Estland und verwandelt sich selbst dabei immermehr mit ihrem Violinspiel in Cindarella. Sie summt, sie dront, sie steppt und loopt sich selbst in die nächste, offensichtlich traurige Geschichte, mit einem Gesicht, das an Liv Ullman in "Die Stunde des Wolfs" erinnert.
Maarja baut ihre Musik interessant zusammen. Sie schafft allein durch Hauchen ins Mikrofon einen Klang von leichter Brise, loopt ihn, zupft ihre Geige und spricht wie zu sich selbst, bevor sie mit ihrer betörenden Stimme anhebt. Ihr gelingt es mit minimalistischem Einsatz einen großräumigen Echosound herbeizuzaubern. Wer Maarja Nuut in der weiten Musiklandschaft entdeckt, sollte sich von ihr hypnotisieren lassen.