Es sind intuitive, oft auch gut begründbare Entscheidungen, die einem keine Wahl lassen, wenn man die Wahl hat. In der SZ entbrannte vor vielen Jahren eine streitlustige Diskussion, vielleicht sogar in der Form eines Briefwechsels – es ging, u.a. um das prinzipielle Qualitätsgefälle von Klassischer Musik und Popmusik.
Meine schlichte Antwort dazu: es gibt keins. Eine Qualität des "Un-Fass-Baren" kann sich hier wie dort ereignen, sie ist nicht genreabhängig. Das sehen natürlich manche Zeitgenossen anders, besonders solche, die zuviel Weihrauch geschnüffelt haben und ihr Brett vor dem Kopf für eine heilige Tafel halten.
Der launige Diskurs fand zwischen Karl Bruckmaier und Helmut Krausser statt, der in jener Zeit einen historischen Roman über das Leben, Wirken und Leiden des Komponisten Gesualdo verfasst hatte, aus dem HBO leicht eine dreistaffelige Serie schöpfen könnte. So eine Art Phil Spector seiner Zeit, ein Wahnsinniger, ein Killer.
Eine damalige Bekannte schenkte mir diesen Roman, den ich nach fünfzig Seiten in die Tonne warf, weil ich ihn unendlich hölzern und bieder geschrieben fand. In dem angesprochenen "Briefwechsel" gab Krausser sich als gönnerhafter Teilzeitliebhaber des Pop zu erkennen, vermerkte aber, in Bezug auf Bruckmaiers Wertschätzung der Go-Betweens, dass ja Gesualdo wohl ein anderes, grossartigeres, erhebenderes Kaliber sei. Uuuaaahhhh – eine Leuchtturm-Existenz!
Beim Entschlüsseln der Struktur von "Magie" zählen nun, wenn man nicht gerade der Riege der Weihrauchschnüffler angehört, die Parameter des Bahnbrechenden und Innovativen allein ganz und gar nicht (den Satz erst mal setzen lassen)! Lieder wie "Spring Rain" oder "Cattle and Cane" (von den Go-Betweens), ach, ganze Platten dieser Band aus Brisbane, können, auf einer feinstofflichen – und keinesfalls esoterischen – Ebene der ihnen innewohnenden Eigenheiten soviel "Mikromagie" (all das, was durch die Raster akademischer Analyse fällt) verströmen wie irgendein alter ehrwürdiger Liederstoff aus fernen Jahrhunderten. Bingo.
k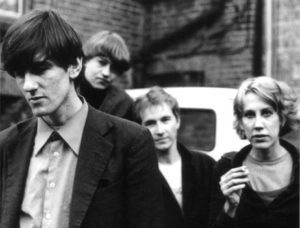 K
k
Das Beste zum Schluss: ich fliege derzeit durch Robert Forsters Buch "Grant & Ich – The Go-Betweens und die Geschichte einer außergewöhnlichen Freundschaft", das am 2. Oktober bei "Heyne Encore" in der vorzüglichen Übersetzung von Maik Brüggemeyer erscheinen wird. Und was stellt sich bei dieser bewegenden Lektüre heraus: Robert Forster ist diesem gesualdoanischen Anhängers einer Wertehierarchie aus der Mottenkiste an schriftstellerischem "élan vital" weit überlegen, und da muss man nicht einmal die Ebene der "Mikromagie" bemühen. Genie, oder kein Genie, das ist nicht die Frage. Das, was Seelennahrung ausmacht, entscheidet zum Glück jeder für sich, es sei denn, lieber Leser, Sie lassen sich etwas vom Pferd erzählen.
P.S.: ich kann dieses Buch gar nicht distanziert beurteilen, ich war zufällig zur ungefähr gleichen Zeit in London, Paris und Regensburg, als die Go-Betweens bzw. einzelne "Botengänger" dort weilten. Synchronizitäten. In London hätten sie mir 1982 oft über den Weg laufen können, im Rough Trade Shop war ich oft, eine Platte von Aztec Camera hing einmal an der Wand. Ich habe oft die gleichen Platten wie die Drei gehört (beim Lesen permanentes Verblüfftsein), war von "Send Me A Lullaby" an dabei, habe keine Band öfter in meinem Leben live erlebt, und einmal in Köln (ich könnte das genaue Datum auf der Erinnerungsseite der Band nachschlagen) habe ich mit der vor Vitalität sprühenden Drummerin im Luxor getanzt, ohne mich zu trauen, sie zu einem Drink einzuladen. Eine Viertelstunde lang war ich zu verliebt, um einen klaren Gedanken oder einen Plan zu entwickeln.