Geschichten aus der Jukebox (4)
Die Taste 130 wird gedrückt, die NSA-Musikbox knackt und knistert, der Plattenwagen setzt sich in Bewegung, eine grüne Apfel-Single wird herausgefischt, das Shuresystem fährt heran, nach dem ersten Ton weiß jeder, welche Platte gewünscht wurde,"Imagine" von John Lennon, B-Seite "It´s so hard." Im November 2016 beklagte ich mich an dieser Stelle über den grauenhafter Sound der Box, es quietsche, quäke, eiere, ein Genuss sei etwas anderes. Das Unglück nahm damals seinen Lauf . Klar, dachte sich der Jukebox-Man, die Box war länger nicht gelaufen, das Öl, das an den beweglichen Teilen der Musikbox hafte, die Schmiere sei verharzt, deshalb laufe die Platte nicht rund. Mit dem Haarföhn versuchte ich damals die Dinge in Fluss zu bringen und musste eine große Zahl Singles abschreiben, weil sie durch die Wärme wellig geworden waren. Nun hat diese Geschichte, die sich für den Jukebox-Man, dessen Neben-Geschäft es immerhin ist, Jukeboxen zu betreuen, ja mehr als peinlich darstellt, eine erfreuliche Fortsetzung bekommen. Ich habe in meiner Not den Meister-Jukebox-Man angerufen. Bei ihm hatte ich vor 10 Jahren meine NSA gekauft, er hatte sie in ihre Einzelheiten zerlegt, gerichtet, wieder zusammengebaut, er würde helfen. Und tatsächlich, er kam, in Begleitung seiner Frau. Nach einer ordentlichen Kuchenschlacht und intensiven Gesprächen über Musikboxen ging der Meister ans Werk. Der Plattenwagen wurde ausgebaut, zerlegt, Teile ausgetauscht, geschmiert, wieder eingebaut, Test: David Bowie: "Lets Dance". Frust: Die Platte eiert, nicht mehr so schlimm, dennoch: so geht das nicht! Meine Theorie mit dem verharzten Öl, so der Meister, würde schon stimmen, aber jetzt sollte die Platte laufen, ob ich Nagellackentferner oder Terpentin hätte. Mit letzterem konnte ich dienen und, oh Wunder, nachdem der Jukebox-Meister die Antriebsrolle gereinigt hatte, war alles gut.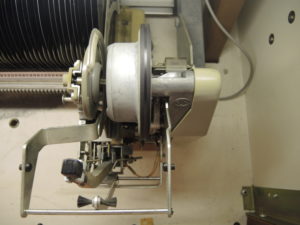 Es sollte noch besser kommen. Der Geldeinwurf sei leider auch defekt, meinte ich kleinlaut, ich hätte keine Idee, das Geld würde einfach durchfallen, ohne dass die Plattenauswahl freigeschaltet würde. Gekonnt nahm der Meister die ganze Geldeinwurfsmechanik heraus, öffnete sie und heraus klimperten D-Markstücke, 50-Pfennigstücke ohne Zahl. Irgendjemand hatte ein 5-Pesetas-Stück eingeworfen und eben dieses war verantwortlich für den ganze Geldstau.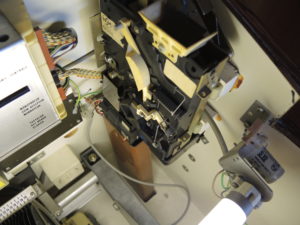 Es sollte noch besser kommen. Der kleinlaute Jukebox-Geselle erzählte natürlich dem Meister von dem Unglück mit den welligen Singles, worauf dieser meinte, das sei kein Problem, seine Singlesammlung enthalte viele doppelte Scheiben, er könne mir fast alle ersetzen.
Ein Woche später brachte der Mann von der Post ein Päckchen, dessen Inhalt hier aufgelistet wird:
Casey Jones and the Governors: Don´t Ha Ha

Christie: Yellow River

Simon and Garfunkel: El Condor Pasa

Pink Floyd: Another Brick uín the Wall

Michel Prolnareff: Gloria

Nat "King" Cole: The Party´s over

The Les Humphries Singers: Promised Land

Desmond Dekker: You Can Get It If You Really Want

The 5th Dimension: Aquarius
Und als Zugabe hatte ich mir gewünscht: "China Girl" von David Bowie. Wow, die Single war auch dabei.
P.S. Auf den Fotos sieht man den Plattenwagen, der aus dem Plattenständer die gewünschte Single herausgreift, dann die Geldeinwurfsmechanik und schließlich den Hunderter-Plattenkranz.
P.P.S. Von meinen Jukeboxstandorten höre ich, folgende Platte sei der derzeitige Hit: Diagrams – "Dorothy".