Mit diesem Plattencover wird noch bis zum 23/04/17 für die Ausstellung Total Records – Vinyl & Fotografie im Berliner Amerikahaus geworben. Vor ein paar Jahren hätte ich noch gedacht, da werden Kunstformen aus einer vergangenen Zeit präsentiert, aber nein, das Blatt hat sich gewendet, die Platten-Industrie handelt einmal wirklich nach den wirtschaftlichen Gesetzen der Bedarfsdeckung und nicht nach denen der Bedarfsweckung (CD!): die Vinylplatte ist seit einiger Zeit wieder da! Die Ausstellung Total Records – Vinyl & Fotografie bleibt aber wesentlich in der Musik- und Fotogeschichte des 20. Jahrhunderts.








Interessant zu sehen, welche Nachahmer "die Vier Männer Auf Einem Zebrastreifen" hatten (siehe das Cover von "Armitage Road: the heshoo beshoo group" oder das der "Red Hot Chili Pepers: The Abbey Road EP") oder zu welcher künstlerischen Zusammenarbeit es gekommen ist, auch, welche Künstler sich der Gestaltung von Plattencovern angenommen haben, etwa Andy Warhol, Robert Rauschenberg und Dieter Roth.








Faszinierend natürlich die Abteilung: Verbotene Plattencover. Unglaublich, was damals so verboten wurde. Die Zensur schlug zu bei zu viel nackter Haut, zu heftige Provokation und Darstellungen von Brutalität. Dran glauben musste etwa "Roxy Music: Country Live", "The Mamas and The Papas: If you can believe your eyes and ears", "John Lennon & Yoko Ono: Two Virgins", um nur drei zu nennen.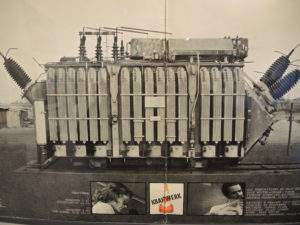 Begeistert haben mich die Cover des ersten KRAFTWERK-Albums vom November 1970 (Innenansicht, siehe Foto) und die des John-Cale-Albums: "Academy in Peril" (Andy Warhol 1972).