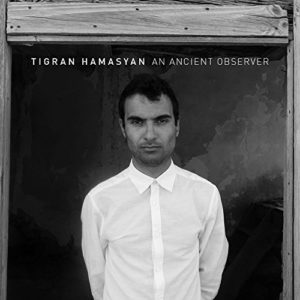 On this new album, Tigran has gone deep into his Armenian roots, pulling epic compositions from ancient folk melodies and inventing some of his own. Letting this music wash over you, it's hard to tell which one is which.
Like his earlier A Fable, this too is a solo album- the vocals, synths, Fender Rhodes as well as various percussion overdubs all belong to Tigran. But this is first and foremost a solo piano album. And what an extraordinary solo piano album this is!
Tigran is a very disciplined composer. He introduces the listener to a theme, develops it, turns it upside down, throwing in sideways Bartok-like harmonies, and then goes his own improvisatory way.
Hamyasan is one of the more rhythmically precise pianists out there, having seemingly absorbed not only the complex odd time signatures of his homeland, but also having studied the East Indian Konocal tradition as well. As such he brings more rhythmic savvy to the table than most piano improvisers can ever hope to summon. It's his original voice and this genius for rhythmic complexity that separates him from so many sound-alike prodigies on today's scene. In a way I think of him as a sort of Armenian Chick Corea-full of ideas, bursting with creative fire, and while steeped in the jazz tradition, delving deep into his own ethnic roots and discovering huge veins of gold, ore that has never been mined before. This is one of the secrets to Tigran's uniquely fresh approach. He also happens to be a fierce improviser: just listen to the middle section of Nairian Odyssey, an 11:00 epic piece that alternates between almost Debussy-like passages alternating with wildly jagged improvised sections. A masterpiece and for me, the centerpiece of the album.
Many of these compositions sound through composed and a few sound totally improvised- a number of these are very short. Just listen to the tightly drawn Etude No1: playful, minimalistic – it's a little gem that tells its story in a mere 2:08. It's followed by another moody miniature, the Egyptian Poet: using just voice and prepared piano, it evokes windswept dunes and a wise old sage somewhere in the middle of the vast Sahara desert. Pure magic.
This music is very different from his past couple of albums. Whereas Shadow Theater is a large highly produced, high energy prog-rock and fusion masterpiece utilizing many musicians and voices, with Mockroot a similar but somewhat less dense project, An Ancient Observer is for the most part a gentler, more inward affair, although it is not without its moments of fire.
My only criticism is that that Tigran's falsetto voice is not a strong one, and there are times I wished he had broken with his solo vision and added a female voice on a couple tracks instead of his own, such as the haunting Lenninagone and the title track, which is the album closer. It's a small quibble, because there is something surprisingly disarming and charming in that little falsetto, something that grows on me with each listen, something personal and affecting that perhaps only Tigran could've brought to the table after all.
An Ancient Observer is a richly rewarding album, filled with extreme dynamic contrasts that go from the contemplative to the dramatic to pure joyousness and wonder. This is a wonderful, original and essential album for all fans of Tigran, and not a bad place to start for those only just becoming familiar with this amazing artist. I would also highly recommend the aforementioned Shadow Theater, Mockroot and Red Hail. But really, all his stuff is worth picking up, if you can find it. Warning: Tigran is highly addictive.