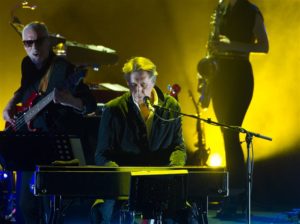 Man könnte diesen Mann im Schlafanzug auf die Bühne stellen, und er hätte noch immer Stil.
Ein bisschen kurzatmig ist er ja geworden, der gute Bryan, und die ganz hohen Töne übernehmen inzwischen Backup-Sängerin und -Sänger, aber was soll's. Der ehemalige Roxy-Music-Sänger ist 71, da ist das nun mal so. Aber was er und seine achtköpfige Band da gestern abend in Pittsburghs Heinz Hall auf die Bühne stellten, das war beachtlich. Chris Spedding an der Gitarre, der allerdings meist dem jüngeren Gitarristen Jacob Quistgaard aus Dänemark das Feld überließ. Der wahre Show-Act allerdings war die australische Saxofonistin Jorja Chalmers, die wirkte wie unmittelbar aus einem film noir aus der Leinwand gesprungen.
Geboten wurden "Greatest Hits". Ein paar ältere und neuere Ferry-Klassiker ("Slave to Love", "Bête Noir" und andere), doch dreiviertel der Setlist stammte aus Roxy-Music-Zeiten. Offenkundig hat sich Ferry damit abgefunden, dass dies die Songs sind, die das Publikum hören möchte, und er bringt sie gut. "Ladytron", "Bitter Sweet", "Love is the Drug", "Re-make / Re-model", "More Than This", "Avalon" – alles war dabei, und nichts wirkte angestaubt, trotz der etwas einfallslosen Lightshow, bei der sogar die gute alte Spiegelkugel exhumiert wurde. Besonders bemerkenswert im übrigen das Instrumental "Tara", das allen Bandmitgliedern Gelegenheit zum Solieren gab, und eine Coverversion von Neil Youngs "Like a Hurricane".
Tja, und dann passierte es: Mitten in "Virginia Plain", als schon längst alle Besucher in den Sitzreihen standen, hauchte mit einem schrillen Pfeifton die PA ihr Leben aus und ließ sich nicht mehr reanimieren. Nach zehn Minuten Ratlosigkeit erschien die Violinistin der Band, Marina Moore, auf der Bühne und spielte – unverstärkt und solo – ein paar Minuten lang ein Werk, das eine der Soloviolin-Partiten von Bach gewesen sein könnte. Danach erschien noch einmal kurz Bryan Ferry, sagte über die Hausanlage irgendetwas, das niemand verstand, aber sein Abschiedswink war eindeutig. Der Setlist nach verpassten wir noch "Let's Stick Together", "Jealous Guy" und "Editions of You".
Das Publikum nahm's gelassen. Was blieb auch anderes übrig.