(34) The One (1992) ***
A new start. New hair (transplanted). A very silly cover designed by Gianni Versace (who then also designed costumes and lightning for the tour, released on the VHS/DVD Live in Barcelona). Bernie's lyrics are pretty good, but The One is not yet the beginning of a "mature period", rather a solid mid-career album. Unfortunately Chris Thomas' production leaves it still a bit stuck in the 80s.
Standout tracks: The few exciting songs are the energetic Runaway Train with Eric Clapton on vocals and guitar, and the ambitious Sweat it out with very good piano soloing (if only the production was without that terrible glossy, almost plastic, sound, it could be such a great song). The 6-minute title song was a top 10 hit, and The Last Song is rather moving. Mostly solid, but the sound is anything but great.
–
(35) Rare Masters (1992) ***
A 2-cd, 37-track compilation of 1970's b-sides, non-LP singles, alternate versions and rare tracks, including the complete Friends soundtrack album and everything previously released on Lady Samantha twelve years prior. Some nice discoveries for fans in this collection.
–
(36) Duets (1993) **
Just like Frank Sinatra did that same year, Elton recorded an album of 15 duets (plus one new solo) with a broad variety of people. Whereas Sinatra did not perform together with his duet partners in the same studios, Elton's Duets are real collaborations, some new songs by Taupin/John (a duet with Little Richard fro example), a few from his own back catalogue, some old hits by other performers (Teardrops with k.d.lang, True Love with Kiki Dee, Love Letters with Bonnie Raitt etc). Lots of famous people (and less famous ones), but hardly anything worth listening to.
Best of all: A mesmerizing appearance by Leonard Cohen, Born to loose.
–
(37) The Lion King (1994) **¼
Yes, the most successful animation film ever. Elton's Song Can you feel the Love tonight won an Academy Award and initiated another comeback. Half of the music is songs by Elton John and Tim Rice, the other half is score by Hans Zimmer.
Zach Boecker says: "The absolute best soundtrack to a musical ever. Runs the gamut of powerful and quiet, joyous and poignant, comical and serious thanks to the master class abilities of Hans Zimmer and Elton John."
Standout track: Hakuna Matata, sung by a meerkat and a warthog. 
–
(38) Made in England (1995) ***
½
A better comeback album than The One, though commercially a less successful one. A more organic sound (the rare studio album between 1980 and 2001 not produced by Chris Thomas), more memorable songs, more personal songs, not too many keyboards, finally back to the grand piano, mature performances. Ray Cooper and Paul Buckmaster (with four string arrangements) are back as well, after many years. Best album in 20 years.
Standout tracks: Belfast, Latitude, Please – primarily an album for fans, though.
–
(39) Love Songs (1995) **
½
A Kuschelrock compilation, relying heavily on songs from 80s and 90s radio (only six sections from the 70s included). Most likely a result of new success with The Lion King. Some versions contain a new song. This CD is the place to go if you're looking for one disc to have all the songs you've heard way too often on the radio. Only Rocket Man is missing; doesn't count as a love song, I guess.
Standout: I guess that's why they call it the Blues (feat. Stevie Wonder).
–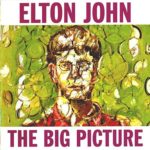 (40) The Big Picture (1997) **
This time it's not Versace but Julian Schnabel who was invited to make the album cover art. Unfortunately, everything else is quite similar to The One, only more dull. Slick 90s sound. It's a boring album. I never liked it.
Standout track: Long Way from Happiness (if only the production wasn't such a terribly uninspired plastic sound)
–
(41) Elton John and Tim Rice's Aida (1998) *
As he did not want to compose songs for another animated Disney movie, Elton composed music for a stage version of Aida. This album is not the stage version, but a various artists album with lots of mediocre songs and performances, among them Boyz II Men, Janet Jackson, Sly & Robbie with Sting, Lenny Kravitz, Shania Twain, Tina Turner & Angelique Kidjo, the Spice Girls and James Taylor. I disliked it so much I couldn't even listen to the CD from beginning to end once. It's bad. I advise you not to listen to it.
Nothing notable here.
–
(42) The Muse (1999) **
As he did neither want to work on another Disney animation nor on another Broadway show, Elton composed the score for Albert Brook's Sharon Stone comedy The Muse. Nice.
–
(43) One Night only – The Greatest Hits (2000) **
The Greatest Hits live in concert at Madison Square Garden. Unnecessary live album without any particular reason of existence. Oh, I almost forgot: There are some guests on stage: Bryan Adams, Mary J. Blige and Kiki Dee. I never owned this album. Can't even remember ever having listened to it.
–
(44) The Road to El Dorado (2000) **
As Elton did not want to compose songs for another animated Disney movie (but had his biggest success in the 1990s with that animated lion), he and Tim Rice decided to compose songs for an animated DreamWorks movie. Though the music is not as specific in the film's context as it was the case with The Lion King, it's more of a cohesive EJ album that that previous effort which included Hans Zimmer's score sections as well. And hey, Randy Newman is here! I remember the album as being pretty boring, so I haven't listened to it more than a couple of times, many years go.
Standouts: I don't remember. None, I guess. 
–
[continued here]  // previously: part 1 ,  part 2 ,  part 3