(24) Too Low For Zero (May 1983) ***
½
Frequently hailed as a return to form (I'm still standing) — and to the top of the charts, for that matter. However, in retrospect one has to admit that Too Low for Zero is far from being an imitation of the successes of the 1970s; there are hardly any similarities with albums of the preceding decade, even though the band is mostly the same as during that creatively most successful period, and Bernie Taupin was finally back on board 100%. This is totally 80s rock and pop, with an outright streamlined sound (It was the one EJ album my parents had in their collection.), a few synth-heavy tracks, some well produced guitars and a good portion of self-reflecting lyrics, which Elton turned into very strong songs for the charts.
Standout tracks: Whipping Boy, Kiss the Bride, I Guess That's Why They Call It The Blues (featuring Steve Wonder!), Too Low for Zero (very untypical, very 80s).
–
(25) Breaking Hearts (July 1984) **
½
A lesser version of Too Low For Zero. Sad Songs (say so much) was a top 5 single, but it's just as arbitrary as the album title. On a positive note, this album feels more like a "return to basics" than the previous one, as it features a rather tight band sound with Elton's "classic" core trio of guitar (Davey Johnstone), bass (Dee Murray) and drums (Nigel Olsson). If it weren't for the 80s keyboard sound and a couple of forgettable tunes (Did he shoot her?, Burning Buildings) this would be a really fine "classic rock" album.
Standout track: I always enjoyed the nice pop tune Who Wears These Shoes, Li'l 'frigerator and also Passengers, because it's pretty weird for a hit single. But it's really an album for fans.
–
(26) Ice on Fire (November 1985) **
½
With album titles becoming more even more arbitrary, Ice on Fire offers some decent soul-pop songs with swing, boogie, doo-wop and dashing trumpet and saxophone arrangements, plus a very glossy 80s production. Nik Kershaw played electric guitar on Nikita, for which Ken Russell(!) directed the extremely popular (heterosexual) music video, if there's anything of interest you'd like to know. (I'm not 100% sure, but this may be the first album I bought.)
Standouts: Tell me what the Papers say, Soul Glove.
–
(27) Leather Jackets (1986) *
½
Don't bother. This album is so poor (and did hardly sell any copies) it wasn't even included in the re-release series of Elton's whole back catalogue, so I wonder if anyone still knows or even cares about it. Cliff Richard and Kiki Dee are here for duets, Cher co-wrote a song (you wouldn't recognize it, though), and even 50% of Queen guested on a song on this album. Btw: the cover is not by Andy Warhol but simply pretending to. Anyway, have a look at this incredibly inappropriate band photo: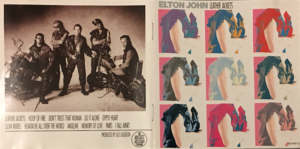 Standouts: (…standing out of what?)
–
(28) Live in Australia with the Melbourne Symphony Orchestra (1987) ***
½
It may be "just" a concert album (the second one in 20 years), furthermore, one with an 88-piece symphony orchestra (in addition to his 13-piece live band) and Elton dressing up in a Mozart costume every night for 27 nights in late 1986 – but this album is quite an emotionally charged one, with EJ having been in a bad shape mentally, plus shortly before a "severe mental breakdown" (resulting from too much cocaine and alcohol, among other issues, for way too many years) and a vocal chord operation. Each night first presented half a show with the rock band – and then, after a break, a second half with the band and the orchestra, but only (most of) the second part of the shows has been released on disc, unfortunately.
The 14 songs on this double album all date back to the early years (half of the second album is here), with songs from 1970 through 1976. A great selection, and the combination with orchestra still sounds very good, in parts intimate, moving and personal (I need you to turn to, Sixty Years on, The Greatest Discovery), in other parts "classically campy" (Candle in the Wind, released a single again, going on to top the charts), in parts showman-like "big", while still entertaining (Have Mercy on the Criminal).
Other standouts: The King must die, Madman across the Water.
–
(29) Reg Strikes Back (June 1988) **½
Since EJ was born Reginald Kenneth Dwight, this title implies a return to a more personal album. That's not the case, however. A mix of very 80s top 20 singles (I don't wanna go on with you like that, Town of Plenty), a few glossy standard ballads, a hint of latin influence (A Word in Spanish) which must have been en vogue then (see also: Pet Shop Boys), the occasional good tune and some funny lyrics (Goodbye Marlon Brando).
Standout track: Heavy Traffic.
–
(30) Sleeping with the Past (1989)
***
½
A more personal and cohesive album, the beginning of coming to terms with lots of things, stylistically a return to a darker, a lot more soulful sound, influenced by Motown, The Drifters (Elton's first group, Bluesology, had been the backing band for The Drifters in England in 1966), Aretha Franklin etc. – a good share of gospel and blues music here. The overall sound would be a lot better if it were less streamlined and glossy, then again it was still the 80s… It sounds a bit better than any other studio album of the decade, still misses some edginess. I never understood why the very mediocre composition Sacrifice went to number 1 and remains a big radio hit. It's the one song on this album I reliably skipped.
Standout tracks: Healing Hands, Amazes me, Blue Avenue, I never knew her Name.
–
(31) The Very Best of / To Be Continued… / EPs (1990) ***
½
Two discs rounding up EJ's career, chapters 1 and 2. Also setting an end to the cocaine and alcohol decades, leading to a new start in life. Notable for the inclusion of several non-album singles, such as the no.1 Don't go breaking my Heart, Lucy in the Sky, Pinball Wizard, Philadelphia Freedom and two new songs, which are pretty good. / To Be Continued collects hits and rarities and previously unreleased stuff on 4 discs; lots of nice things to find here, such Elton's debut single with Bluesology from 1967, a French duet with France Gall from 1980, a song for a Cartier commercial, an aggressively rocking duet with Millie Jackson, an absurd interpretation of Give Peace a Chance – and others. / The EPs are worth mentioning, because they actually make up half a new album, which isn't bad, mostly because of the gospely You gotta love someone, which, listening to it today, I can still value as a very good and soulful song. Furthermore, there is a collaboration with Adamski, which also very good.
–
(32) MTV Unplugged (May 1990) ***
This concert, the second or third show in MTV's then new Unplugged series, has actually never been released on CD, LP or VHS – so it's officially not an album. However, it should have been. It's the rare chance to hear Elton play a solo show on grand piano only. And he's very entertaining at that, has been a fairly good improviser, too. The only other option to hear similar intimate performances is the rarely available VHS To Russia with Elton from 1979, documenting a Russia tour with only him and percussionist Ray Cooper. It's very unfortunate than none of the many duo tours Elton and Ray did during the past 30 years, including lots of lesser known songs, not one has ever resulted in a live album.
–
(33) Two Rooms (1991) **
½
If you'd like to hear the (rest of the) Beach Boys perform Crocodile Rock, Kate Bush become the Rocket Man, The Who closely trace Saturday Night's Alright for Fighting, as well as everyone from Phil Collins, Tina Turner, Rod Stewart to Joe Cocker, George Michael and Wilson Phillips say hi, this double album is the place to go. 
Standouts: not too many, most interpretations are simply too uninspired, but Sting's intimate Come down in Time (accompanied only by Elton on piano, his only appearance on this release) is excellent [a good place to start for you, Michael ;-) ], and Sinead O'Connor turns the very underwhelming Sacrifice into a haunting piece of songwriting; Eric Clapton hands in a moving interpretation of the Border Song. Another highlight is the colourful piano performance on Bruce Hornsby's version of Madman across the Water. 
–
continued here; previously: part 1, part 2