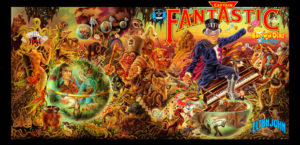 (12) Captain Fantastic and the Brown Dirt Cowboy (May 1975) ****
½
Not much more to note than that Captain Fantastic is Elton's first "mature" album, often regarded as his best. An autobiographical suite of well-crafted and complex pop songs by Elton and lyricist Bernie Taupin, about their years before they became famous. Funnily enough, the extravagant, surreal cover in Goodbye Yellow Brick Road meets Dalì style doesn't do justice to the music.
Standout tracks: works best as a suite, less as individual tracks, but how about the title song or Tower of Babel?
–
(13) Rock of the Westies (Oct 1975) ****

(or maybe more)
Often disregarded as an uninspired and blunt hard-rock album, which I think is a bit unjust. Yes, it's very different from all preceding albums, rocking a lot harder, sometimes in a bluesy or dancey manner, in parts even aggressively, thanks to two guitar players (don't expect Led Zeppelin, of course), but the arrangements are never shallow or banal, quite the opposite, and also rhythmically (and structurally) varied, thanks to Ray Cooper's multifaceted nature. An almost completely new band was involved in these recordings, right after Captain Fantastic, including, notably, 24-year old James Newton-Howard on electric piano, synthesizers, clavinet and mellotron (he remained a member of Elton's band until the late 80s and went on to become an immensely successful film composer). There's only one ballad, the one hit single and number one hit Island Girl is arguably the weakest song on the album (which might explain why it was not even part of the extensive The Very Best of Elton John double album), and yes, Bernie's lyrics are kind of a mixed bag as well.
It may not leave a very subtle impression, but the spontaneity and dark vigor of the album are the reasons why I think Rock of the Westies is a very good one. It's one I have always enjoyed coming back to a lot. [Side note: After several extravagantly colourful album covers, this one indicates a return to a less eclectic pop music collection, back to a more basic, unpretentious approach, like Honky Château.]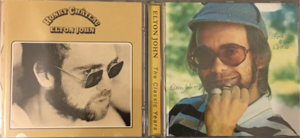 Standout tracks: Billy Bones and the White Bird, Dan Dare (Pilot of the Future), Street Kids.
 –
(14) Here and There (recorded 1974, released May 1976) ***
½
Aka contractual obligation album. Elton's first real concert album. The original version was only one LP with ten tracks, its title reflecting on success in England and America, hence "here" is the UK concert recording from London in May 1974, and "there" is the American side, recorded in New York City six months later. However, the double CD release (1995, 160 minutes) adds an immense amount of value and helps to make this Elton's definitive live album of the seventies (actually, there are no others, except for a couple of very limited edition concert releases).
The album is also notable for containing John Lennon's final live appearance (three songs), including a relevant story around it: Elton had recorded Lucy in the Sky with Diamonds with Lennon's help (as well as his One Day at a Time on the flipside) and appeared on his single Whatever gets you thru the Night, about which Elton surmised it would become a number one hit. To which Lennon joked if that would happen, he'd perform on stage at Madison Square Garden with Elton. And so they did. Plus, after 18 months of separation, John and Yoko met again backstage of the concert — and less than a year later Sean was born. Then John pledged to disappear from the public eye for five years to the good father he had missed to be to Julian. AllMusicGuide: "This should be considered essential listening for enthusiasts as well as curious music historians."
Standout tracks: Whatever gets you thru the Night, I saw her standing there, Bad Side of the Moon, Honky Cat, Love Song, Take me to the Pilot, You're so static.
–
(15) Blue Moves (Oct 1976) ****
EJ's second double album is actually his longest studio album. (NB: The first CD release omitted three songs to make it fit onto one disc.) A fascinating mix of gospel, unusual country songs, some orchestra arrangements, the Brecker Bros. (Randy and Michael) with Barry Rogers and David Sanborn as brass section, James Newton-Howard is back as well, on synths and organs (and this time even as co-writer on a couple of songs), two guitar players, the always fantastic percussionist Ray Cooper, Crosby & Nash as backing vocalists, and then there's even a gospel choir.  Funnily enough, the only hit single was the quiet Sorry seems to be the hardest Word, which is the only song on the album anyone might know today.
Though all that may sound like a pompous production (and it allegedly took many months of production), Blue Moves is actually a very underrated album, almost as good as Captain Fantastic, an abundance of strong songs in a diverse variety of styles and lots of interesting musical ideas. The beautiful simple song Idol has been my favorite unknown song by Elton John for a very long time, and even though the album leaves a rather serious general impression, loaded with lyrics about God, remorse and finality, there is so much to enjoy here, including some instrumentals.
Standout tracks: Where's the Shoorah? (a beautiful gospel), Idol (lost classic), Cage the Songbird (for Edith Piaf), Bit your Lip (Get Up and Dance) (a seemingly endless semi-hard rock jam with a Baptist choir and a string section conducted by James Newton-Howard), Tonight, Crazy Water, Chameleon.
 –
(16) Greatest Hits Vol.2 (Nov 1976) ****
The only reason I've included this here to get to 21 albums by May 1980. There are ten mostly very good songs on this LP, including two non-LP singles: Philadelphia Freedom and Pinball Wizard (from The Who's Tommy, of course). Three singles from Rock of the Westies and two from Madman across the Water, if you bother to know.
Standout tracks: Tiny Dancer, Grow some Funk of your own.
 –
(17) The Thom Bell Sessions (recorded 1977, released 1979, completely released 1989) **
½
Basically an unfinished album with Phillysoul producer Thom Bell. Three songs were released as an EP in 1979, the complete sessions (six songs, 35 minutes) ten years later. I think it counts as an album.
Standout tracks: no idea
– 
(18) A Single Man (Oct 1978) ***¼
First album without Bernie Taupin. Gus Dudgeon is back as producer. It's a kind of "back to the piano" album: It impresses with some sweeping piano performances, a few even kind of outrageous, such as I don't care and Madness. Backing vocalists: The Watford Football Team.
Standout tracks: I don't care and Madness are cool. Because both of them sound a bit mad. And BJ Cole is back playing pedal steel guitar on the beautiful gospel hymn Georgia. When I was 14-15, my favourite song ever was Part-Time Love. Not anymore.

–
(19) Victim of Love (1979)

 [no stars available]
Even if you don't like Elton John at all, you couldn't imagine how bad this album is. Probably the worst album you'll ever hear. It's the only one of his studio albums I don't own any more. A pseudo-disco album on which Elton did neither participate in writing any of the songs nor play any instrument. Sounds like he wasn't even present during the recording session (was probably an impersonator)… which sounds like it must have been recorded in less than an hour. [I found this comment on Discogs: "Worst album I own? Disco-cocaine-80s dog vomit. Elton WTF?"]
Notable: All songs sound exactly the same. However, the opening song is Johnny B. Goode.
–
(20) Lady Samantha (1980) ***
A b-sides and rare tracks collection featuring recordings since the 1970. Several pretty good ones, though.
Standout tracks: Bad Side of the Moon, Rock'n'Roll Madonna, Into the Old Man's Shoes.
–
(21) 21 at 33 (May 1980) **
…which was Elton John's 21st album when he was 33 years old. Some rockers, some ballads, but nothing really worthwhile here. On the minor hit single Little Jeannie one can hear Elton's typical 80's MOR pop emerging slowly. Ah yes, there are some Eagles singing along (Glenn Frey and Don Henley).
Standout tracks (standing out among very mediocre songs): Take me back, Two Rooms at the End of the World.
–
(22) The Fox (1981) ***
Put together with several songs recorded during the 21 at 33 sessions (most of them being surprisingly more inspired than on the preceding album), The Fox is usually considered as one of those albums no-one cares about. It's not that bad, though. The early 80's synth sound may be dated, and the pop-rockers may appear like painting by numbers — but I still like the album. There's some unusual stuff to find here: James Newton Howard's cheesy instrumental Fanfare for example, the strangely inspired Fascist Faces ("I'm tired of being linked with the KGB and all that political crap." with spoken voice by Rev. James Cleveland), or the personal Elton's Song with lyrics by Tom Robinson. 
Good tracks: Elton's Song, Fascist Faces, Just like Belgium, Heart in the Right Place.
 –
(23) Jump Up! (1982) **
One half of the songs are pretty decent. The other half not so much. Don't bother. Side note: The song Princess was actually dedicated to the Princess of Wales, Diana Spencer, who had just married the crown prince of England and whom Elton had met for the first time in 1981.
Notable tracks: Ball and Chain features Pete Townshend on acoustic guitar (it's the rare song without piano or keyboards), while Empty Garden is a nice elegy for John Lennon. I am your Robot is as silly as it gets.
–
[continued here]  //  Part 1