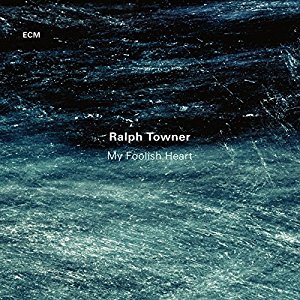 I recently saw Towner perform a stunning solo set at the SF Jazz Center. It was a remarkably fresh set from someone who has been on the scene for some 50 years. Most of the tunes came from the new album.  He did play a few classics such as If and Redial. He also played a beguiling version of I Fall in Love Too Easily.
At 77, Towner shows no signs of slowing down or losing his edge. He took chances during his 50 minute set, occasionally flubbing a note that he tried to grab, but then, that's always been Ralph's style-thank God, he doesn't play it safe. Of course, sounding  perfect on the solo classical guitar is a challenge that even many of the classical greats fall short of- I have heard Parkening blow a note and even the ever reliable Williams buzz a few on the fretboard. Not that I care personally about such nonsense. Still it makes me laugh to know Ralph's classical guitar teacher once told him he would never make the cut as a classical guitarist-and in a way he was right: Towner is SO much more than a mere interpreter of written music-he is a major creative force. He has penned literally 100s of compositions, many of which are played by aspiring classical players. As an improviser on the nylon string he is perhaps in a class by himself.
This may very well be Towner's strongest solo album yet. The ever prolific master has gifted us with 10 new originals, most written in his neo-classical style. His playing is in top form- indeed Towner is one of those artists who has only improved with age. What you have here is a very listenable album, a kind of rainy day music for thoughtful listeners. It is anything but background music, although I suppose it could be listened to as such-repeated listenings reveal hidden depths.
The opening piece, Pilgrim, sets the tone for this mostly introspective set. It's all there: a strong melodic classical piece tinged with contemporary harmony and rhythm, that familiar and specific world that only Towner seems to inhabit. There are two tunes on which Ralph plays his signature 12 string. It's great to hear that unique sound again. His reading of My Foolish Heart is as sweet and tender as Bill Evans's classic version at the Village Vanguard, which according to Towner, was the inspiration for choosing to become a jazz musician in the first place. You can certainly feel the Evans influence here. To close out the set, he plays a remarkably complete sounding solo version of his Oregon composition, Rewind.
I just want to add that this may very well be the best recording yet of Ralph's custom nylon string. It's almost as if he's playing in my living room. Towner is a bit of a reverb freak-it should be noted that his live performance was slathered with was in my opinion, way too much verb.  Thankfully this is not the case on this recording, which has just the right amount of hall ambience to give the recording some needed space around the luscious notes. Kudos to Manfred Eicher and the fantastic engineers at ECM, who continues to outdo themselvs in the production department.
Towner has done it again. An instant classic.