Vor vierzehn Tagen habe ich hier mein erstes Tonbandgerät vorgestellt, das Grundig TK 14. Für mich gab es ab diesem Zeitpunkt nur die Alternative, entweder ein Musikstück mit meinem Spulentonbandgerät aufzunehmen oder, wenn ich die Platte umwerfend gut fand, die Single oder Langspielplatte zu kaufen.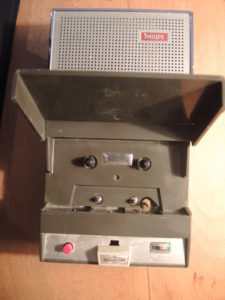 Später dann, als der Kassettenrecorder folgte – es war ein Philips EL3302 , dieses tragbare Gerät verfügte über eine 5-polige DIN-Buchse, ein Mikrophon und konnte mit Batterien betrieben werden – , hätte es für mich noch die Alternative gegeben, bespielte Kassetten zu kaufen. Freilich wurde die bespielte MC bereits ab 1965 hergestellt, nur habe ich damals von dieser neuen Entwicklung nichts mitbekommen, ich interessierte mich dafür auch nie sonderlich. Von bespielten Kassetten habe ich persönlich auch  gar nichts gehalten, ich bevorzugte dafür  hochwertige, unbespielte Kassetten; so konnte ich meine eigene Musik zusammenstellen. In den siebziger und achtziger Jahren folgte ein Siegeszug der Kassette, ob nun bespielt oder nicht bespielt. Sogar ECM verkaufte bespielte Kassetten. Noch 1991 wurden fast 80 Millionen Kassetten verkauft, heute stellt die MC sicher nur noch um ein winziges Nischenprodukt dar.
Die Kassettenrecorder wurden mit der Zeit auch immer besser, hochwertige Geräte, etwa von Nakamichi – der Dragon kostete damals schlappe 4500,00 DM, es war allerdings auch ein Traumgerät – , Akai, Onkyo, Denon oder Uher,  kamen mit den Gleichlaufschwankungen immer besser zurecht und konnten es mit guten Spulentonbandgeräten durchaus aufnehmen. Heute noch kann ich meine Musikkassetten mit Genuss hören. Hier im Bild mein Nakamichi RX 202E und das Akai GX 75.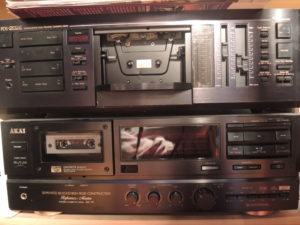 Eine Entwicklung habe ich allerdings vollkommen verpasst: bespielte Spulentonbänder. Ich besitze nur eines, das ich kürzlich auf einem Flohmarkt entdeckt habe (hier im Bild): Petula Clark: the other man´s grass is always greener (ein Recording Tape aus dem Jahre 1968). Inzwischen kundig gemacht, stelle ich fest, dass hier ein echter Sammlermarkt entstanden ist, auf ebay etwa werden Recording Tapes für sündteures Geld verkauft, zum Beispiel das 2 Spur Tonband Reel to Reel : The Beatles – A collection of Beatles oldies für 189,99 Euro.