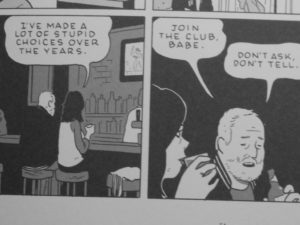 Nach den herausragenden Graphic Novel Bänden "Sleepwalk and other stories", "Summer Blonde" und "Shortcomings" hat in New York lebende Comiczeichner Adrian Tomine, Jahrgang 1974, eine neue Sammlung von Geschichten unter dem Titel "Killing And Dying" veröffentlicht. Diese Stories unterscheiden sich insofern von den bisherigen, als sie nicht mehr hauptsächlich in Adrian Tomines Generation spielen, sondern sehr verschiedene Settings, verschiedene Figuren und auch eine größere Bandbreite an Zeichenstilen präsentieren. Sie zeigen einen großen künstlerischen Entwicklungssprung, eine Reife in der Wahrnehmung und Erzähltechnik. Alle Geschichten sind – wie die früheren Arbeiten Tomines auch – vom Grundton her melancholisch, sie haben aber auch witzige Elemente, und sie bewahren ihr Geheimnis. Immer gibt es Leerstellen. Niemals werden Figuren bloßgestellt.
A Brief History of the Art Form Known as "Hortisculpture": Ein Gärtner macht eine Erfindung, es ist eine Kombination aus Skulptur und Pflanzung. Er kämpft um Anerkennung.
Amber Sweet: Eine Studentin hat große Ähnlichkeit mit einer bekannten Internet-Erotiklady. Sie kommt damit nicht zurecht, ändert ihr Leben und irgendwann trifft sie zufällig die Frau aus dem Netz.
Go Owls: Auf einer kleineren Versammlung oder Selbsthilfegruppe lernen ein Mann und eine Frau mittleren Alters einander kennen, sie landen ziemlich schnell im Bett, die Frau zieht bei dem Mann ins Haus ein. Doch da ist etwas an ihm, was ihr nicht gefällt, er will sie kontrollieren.
Translated, from the Japanese: Die Icherzählerin reist mit ihrer kleinen Tochter im Flugzeug von einem Besuch bei ihren Eltern in Japan zurück nach Kalifornien. Es ist die einzige Geschichte, bei der wir die Hauptfiguren nicht sehen.
Killling And Dying: Eine Teenagerin, die stottert, macht einen Kurs als Stand-up-Comedian. Ihre Mutter unterstützt sie, ihr Vater ist skeptisch.
Intruders: Ein Mann mittleren Alters, der nichts Besonderes zu tun zu haben scheint, erhält von einer früheren Untermieterin jetzt erst den Wohnungsschlüssel für eine Wohnung zurück, in der er früher mit seiner Freundin lebte. Der Mann wird Stammgast eines Cafés direkt gegenüber der Wohnung und dringt tagsüber, wenn der neue Mieter arbeitet, mit dem Schlüssel in seine frühere Wohnung ein.