Wenn der Tempo mit dem Jukebox-Man kommt …
Im Juni letzten Jahres war ich zuletzt in Henrys Kneipe, zurück nun also in Hörnum, in Henrys kleiner Wirtschaft am Rande des Hafens, direkt an der Nordsee gelegen. Nach Westen hin nur noch Sand, Dünen, weiter südwestlich ist Amrum zu sehen, im Norden, oberhalb der Gaststätte, der Leuchtturm. Es war ein wunderschöner Frühsommertag damals, als ich Henry die Wurlitzer gebracht hatte (Plattenschrank 95) … Immer wieder, was für ein Fest, einen komplett leeren Plattenkranz mit 100 Singles neu zu bestücken; die kleinen mit den Plattentiteln bedruckten Schildchen korrekt unter die jeweilige Nummer in die fast zu engen Plastikfächer zu schieben, und dann der Test: Nummer und Titel sollten jetzt stets übereinstimmen. Ich würde mir das nie verzeihen, wenn Henry A8 drückt und LOLA von den KINKS zu hören annimmt, aber TEARS OF A CLOWN von SOMKEY ROBINSON AND THE MIRACLES ertönen, das ist zwar auch eine fantastische Nummer, aber eben nicht LOLA, nee, also, das geht gar nicht.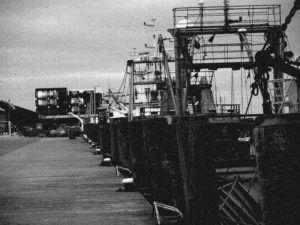 Michael Chabons Buch "Telegraph Avenue" (Köln 2014) hatte Henry damals gerade gelesen und gemeint, dass seine Ängste, was das Überleben seines Betriebs anginge, ihn an den kleinen Plattenladen in Michael Chobons Buch erinnerten. Ich wollte natürlich nun nicht gleich mit der Tür ins Haus fallen und sofort bei meiner Ankunft nach dem Wohlergehen des Ladens fragen und so machte ich mich nach einem Begrüßungsdrink an Henrys Bar zunächst einmal an die Arbeit und schaute nach der Box. Ein paar Kleinigkeiten gab es zu richten, aber ansonsten, so sagte mir Henry, laufe die Box wie geschmiert. "Das soll wohl so sein …", meinte ich. Mitte Oktober, Gäste waren keine mehr ins Sicht und so sperrte Henry die Türe seiner kleinen Hafenkneipe etwas früher ab als sonst. Wenn noch jemand gekommen wäre, Henry hätte ihn nicht verdursten lassen. "Wie liefen die 100 Singles? Welche Musik mochten deine Gäste in den vergangen 15 Monaten? Gibt es Schwerpunkte?", fragte ich. "Es sind die Jahre 1966 bis 1973, Sachen aus dieser Zeit laufen bestens und dann noch ein paar deiner Missionsplatten aus der Jetztzeit, ich schau gleich mal nach …" Das Gespräch drehte sich um Musik, aber gerade als ich nach dem Geschäft fragen wollte, stand Henry auf und holte uns etwas zu essen: Leckerste Fischbrötchen und einen feinen, kühlen Weißwein.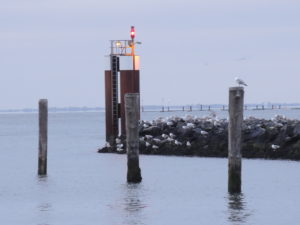 Was dann aber passierte, damit hätte ich nun wirklich nicht gerechnet. Henry verschwand hinter der Bar und holte einen Stapel CDs hervor, alle gleich an der Verpackung als ECM-CDs zu erkennen. "Das", so meinte er, "ist meine Entspannung. Wenn der Laden leer ist, der letzte Gast den Weg zur Tür gefunden hat, dann schalte ich die Box ab und lege, während ich aufräume, spüle, die Tische hochstelle, einige dieser CDs auf. Ganz am Schluss, bevor ich gehe, setzte ich mich nochmal in Ruhe hin, trinke einen Bunnahabhain (Islay Single Malt Scotch Whisky) und höre ganz intensiv noch ein einziges Stück von einer ECM-Platte, die mir besonders gut gefällt. So, und weil du ein so guter Freund bist, hole ich jetzt die Flasche Bunnahabhain, und nenne dir meine Late-Night-Stücke der letzten zehn Tage. Ich nehme mal an, du kennst die Platten und wirst dann in der Lage sein, aus den zehn genannten Musiktiteln einen auszusuchen, mit dem wir diesen wunderbaren Abend beschließen." Er wählte zehn ECM-Platten aus dem Jahr 2016 aus und nannte von jeder Platte seinen Lieblingstitel:
Glauco Venier: Music for piano and percussion: Gunam
Andrew Cyrille Quartet: The Declaration of Musical Independence: Kaddisch
Tonu Krvits / Veljo Tormis: Mirror: The Last Ship
Avishai Cohen: Into The Silence: Life and Death
Jacob Bro: Streams: Full Moon Europa
Jack DeJohnette, Ravi Coltrane, Matthew Garrison: In Movement: In Movement
Jon Balke: Warp: This Is The Movie
Tigran Hamasyan, Arve Henriksen, Eivind Aaret, Jan Bang: Atmospheres: Traces 5
Rolf Lilevand: La Mascarade: Chaconne en la mineur
Tord Gustavsen: What was said: I Refuse
Ein Auslese feinster Art, diese Stücke und ich stellte mir bei jedem einzelnen Titel Henry vor, wie er die Kneipentür abgesperrt hat und nun alleine bei einem Lagavulin oder einem anderen edlem Malt sitzt und der Musik lauscht, ganz für sich allein.
Mit Henrys zwei Plattenwünschen aus dem letzten Jahr: Midnight Theme (Fraternity 1975) und Redbonin´, eine Platte, die es im Juli 1972 bis auf Platz 32 der R&B-Charts geschafft hatte, bin ich noch nicht erfolgreich gewesen, das nächste Mal vielleicht.