Dear Manafonistas! John Cage is a returning theme on your blog – and in my life – though master virtuoso Keith Jarrett has set the tone during the last days. Maybe you are interested in my new adventure, PARTNERS, that will be released two days before Michael's next night show. There's a lot I'd love to tell you about this music.
The inspiration really came when I decided to learn to play John Cage's In A Landscape on the piano … I listened to a recording I had over and over again, five seconds or so at a time, picking out every single note. Then cross referencing what I'd learned with other versions of the piece as well as the original score. The feeling of playing this piece really brought me close to the piano again, and brought new life to my own piano songs.
Beyond Cage's music, his life and practice have interested me more and more, after having read about his love for foraging wild foods and using chance operations to compose music, in a sense taking his "self" out of the music. I love his so-called "mesostics" and began to write several poems using that method, around this phrase:



I
N

A

L
A
N
D
S
C
A
P
E



When it came time to record in the studio, I rolled two dice to decide how many poems to read. I rolled 5. Then I assigned a number to each poem and rolled the dice to see which five poems would be read and in which order. That's the first track Partners, which is also the last word of the last poem I selected through this chance-based process. Track two is my version of In A Landscape. I love playing that piece so much.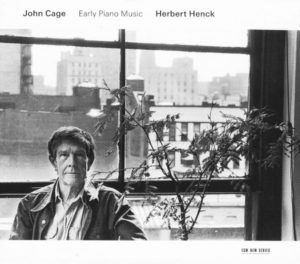 Carried is a piece I wrote in Berlin which I've played live from time to time. There was a soft vocal loop playing out through an amplifier in the room while I played the piano. You can listen to the track on Soundcloud.
Under The Bridge is my first ever chance-based composition, written by assigning different numbers to different notes and then rolling dice to decide in which order to play those notes. Conspiraling is another piece I've been playing for a while. Actually a version of this was recorded in the session that became 'How They Are', but it didn't quite feel right. I like to pretend my voice is like a synthesizer in this song. Then there's Up Niek Mountain which is a piece I finished composing while in residence at a farm in the Netherlands back in 2010, and is named after one of the family farmers there, Niek, who passed away shorty after I was there. We miss you Niek. The last song is a cover of Brigid's Sometimes. Brigid to whom I dedicate this recording.
And then there's Tucker, Mr. Martine, who agreed to record this album without me ever hearing the mixes. We talked about all the sounds and he set up several devices with which to manipulate the sound live, as it was being recorded and mixed down to tape. Francesco also agreed to master the record without me hearing it. I like to imagine maybe one day, five or ten years from now, I'll walk into a café or roadside diner and hear it for the first time, playing as background music while people eat.
OK surely that's enough for now!

With love,
Peter Broderick