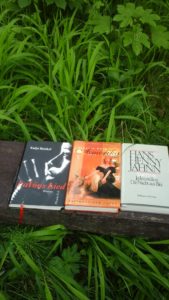 1. Katja Henkel: LaVons Lied (Wunderlich 2002)
Der Roman ist eine Erinnerung an Miles Davis.
Katja Henkel hat verschiedene Jazzmusiker in New York aufgesucht und deren, ihr erzählten Geschichten, zu einer seltsamen Dreiecksgeschichte verarbeitet. Zwei ältere Damen treffen sich in einem New Yorker Café und erzählen in einer Rückblende von 40 Jahren, was sich in den 50 er Jahren in den Jazzclubs in New York abgespielt hat, wer gegen wen gespielt hat und wer überhaupt am besten gespielt hat.
Die Leute an den vorderen Tischen drehten die Köpfe, um zu sehen, was da vor sich ging, und hielten den Atem an, als sie den schmalen jungen Mann sahen, der sich mit erhobenem Kopf durch die Reihen schob. In seinem schwarzen Haar, das dicke eingefettet nach hinten gekämmt war, tanzten Funken, die Lippen hatte er verächtlich herabgezogen. Sein schlanker Körper steckte in einem Anzug mit unerhört breiten Schultern, dazu trug er ein Mr. B-Hemd. Seine Bewegungen waren geschmeidig und vorsichtig, als erwarte er jeden Moment angefallen zu werden. Ehrfürchtig machten ihm die Gäste Platz, ihm der eines Tages einer der reichsten Männer im Jazz werden sollte. Der Schlagzeuger, der aussah wie Wie ein Abziehbild von Kenny Clarke, hatte sich aufgerichtet und rief: "Ladies and Gentlemen, please welcome Mr. Miles Davis."

Der junge Trompeter begann nervös zu lächeln, als wisse er nicht, ob er nun die Bühne verlassen sollte oder ob ihn sein Idol auffordern würde zu bleiben. Doch Miles sprang aufs Podium und ging einfach an ihm vorbei, auf den Schlagzeuger zu. Und bestimmt dachte er in diesem Augenblick auch an Kenny und an Paris … An die Nächte am linken Seineufer … mit Jean Paul Sartre, Albert Camus, Pablo Picasso und Simone de Beauvoir, die alle besessen waren von dieser neuen Musik.

(S.118/119)
2. Sibylle Berg: Amerika ( Hoffmann und Camp 1999 )
Dieses Buch handelt von "Alltagsbienen" in ihrer ganzen erdrückenden Kleinbürgerlichkeit, die vom großen Glücksruhm träumen und nicht merken, wie kümmerlich eitle Selbstmacht ist und wie klein der Mensch in der abhängigen Liebe wird. Frau Berg ist ja bekannt dafür, dass sie keine Scheu vor nichts hat. Sie ist so ganz weit weg von einer Frau wie Hillary Clinton. (Warum nicht innehalten und kurz den Song von Johnny Cash's America anhören: For your lie, you're gonna cry, cry, cry).
Zurück zum Roman. Er ist ziemlich klug, ja raffiniert aufgebaut.
Sibylle Berg widmet jeweils den in Beziehung Stehenden eigene Kapitel. Für den Leser ermöglicht das eine verständnisvolle, nachvollziehbare Sichtweise der hier aufgeführten, absurdesten Alltagstrübseligkeiten.
"Entfernt saß ein Mann, der aussah wie Till Schweiger. Karla starrte ihn an, und der Mann, der aussah wie Till Schweiger, weil er Till Schweiger war, nickte ihr zu. Karla seufzte tief. In Ordnung Till, bald werden wir zusammen drehen, aber nur einmal, hörst du, denn du bist nicht Star genug für mich. Karla schaute die Lichter der Stadt, eine Versammlung unzufriedener Glühbirnen fuer mehr Freizeit und dachte, ich werde ab jetzt ein neuer Mensch sein, und hätte sie diesen Gedanken laut gesagt: I wanna be a star. Wäre aufgesprungen aus dem Flugzeuggestühl, hätte den Satz gesungen, die Bluse runter, die Möpse raus, vom Stewart niedergerungen, angeschnallt, Fäustling in den Mund, Beruhigungsspritze – die Möglichkeiten, von der Normalität in die Unerträglichkeit zu gleiten, lauern überall. Doch selbst mit nackigem Handstand hätte keiner im Flugzeug aufgeschaut, sich gewundert, noch nicht mal gegähnt. Also blieb Karla sitzen und versuchte, ruhig  zu werden."

(S.45)
3. Hans Henny Jahnn: Die Nacht aus Blei  (Hoffmann und Campe 1987)
"Ich verlasse dich jetzt. Du musst alleine weitergehen. Du sollst diese Stadt, die du nicht kennst, erforschen." Matthieu, der den Kopf gesenkt gehalten hatte, blickte auf. Er erkannte dies: dass es Nacht war – ein schwarzer Himmel ohne Sterne – dass es Häuser gab, gepflasterte Straßen, dass er an einer Ecke stand … Während sein Geist sich anschickte, sich zu wundern, spürte er, dass er unbekleidet war, und in diesem Zustand ein ungehöriger Fleck auf der Straße  war … doch nur ein paar Sekunden lang empfand er diese Nacktheit. Er bewegte die Arme, weitete die Brust. Er lehnte sich rückwärts gegen die Luft, die ihn umgab, und nahm wahr, dass sie ihn stützte. Er erkannte die Gestalt der Stimme, den Körper, der sich noch nicht von ihm verabschiedet hatte.

(S. 247)
So beginnt Die Nacht aus Blei, sie ist eine Traumnovelle.
Hans Henny Jahnn war homosexuell, das sei erwähnt, um das Hin- und Hergerissensein der Hauptfigur Matthieu zu verstehen. Matthieu wird an seltsame, logenartig geheimnisvolle Orte ent- und verführt. H. H. Jahnn verarbeitet hier in obsessiv erotischen Schilderungen sein eigenes triebhaftes Wesen. Jetzt, beim zweiten Lesen nach vielen Jahren erinnerte mich die Atmosphäre an den Film Eyes Wide Shut von Kubrick und an erotische Märchen aus fernen Ländern.