You weren't on my mind. It wasn't raining. And it was totally great to be back in Liverpool again yesterday, 6 years (give or take a fortnight) since we first met. It was raining when I met you, you were soaking wet – no time to be impressed. And I remember like 3 hours later on, you were someone I would not forget. I remember stupid things: the radio played Spoonie Gee that morning of the day we first met, 12 hours before you fell from the sky. Your constellation, your warzone. Your smile. The black cab we took had bulletproof glass, the city popped and fizzed, its flagstones and skyscrapers bursting with radioacivity, the faint smudge of an echo of the moment of creation. The sky looked like the cymbal sounds at the start of that Coltrane record. Your constellation, my warzone. You fell from the sky.
If you get the Newcastle-bound train from Liverpool you can be at Manchester Piccaddilly in no time. So I did. And You weren't on my mind. And today in Manchester I see, in neon, in fucking neon, a representation of radio waves from a highly magnetized, rotating neutron star.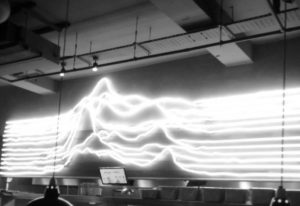 No bible-black frieze, no widescreen here. The mirror that fell from the wall was raggedy, that's all.