Eine Zufallszusammenstellung. Da fiel mein Blick drauf, letzte Woche, ich fotografierte den Blick (sorry, nicht ganz scharf!), nichts war arrangiert, der Schnappschuss hat was zu erzählen. Fragt man mich, was ich an der Welt des Reggae so mag – lassen Sie den Blick kurz auf dem Cover von Bobby Kalphats Album "Zion Hill" ruhen (das mit der roten Flasche!)  – , ist es wohl auch "the living with holes", die Aussetzer im Rhythmus, als würde fortlaufend etwas stolpern und fliessen, stolpern und fliessen in einem Atemzug: das Stolpern und der "flow" s i n d eins.
Die wenigsten kennen Bobby Kalphat, und diese auf zwei Platten verteilte Edition des "Berges von Zion". Bobby Kalphat spielt gerne Melodika, ist aber, obgleich einst ein gefragter Sessionmann, lang nicht so bekannt wie Augustus Pablo. Er spielt auch Keyboards – und einen Moog, der leicht zu handeln ist und schöne Brummgeräusche macht. Die Melodika ist durchaus nicht das tragende, markante Instrument. Alles auf "Zion Hill" ist aus einem Guss – "trippin' through the Jamaican Book of Standards" – Bobby Kalphat nimmt sich einen Haufen von Lieblngsliedern vor, die gebucht sind für fast jede jamaikanische Jukebox.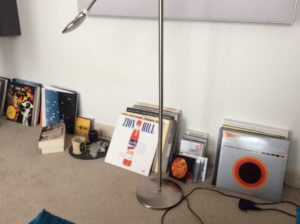 Mein Gott Jah! Der satte Sound mit konturierten Drums und knochentrockenen Bässen ist hinreissend. Man befindet sich im "goldenen Zeitalter", Lee Perry winkt die ganze Bande herein. Man geht von Studio zu Studio, und am Ende hat man von jedem Raum, jedem "Medizinmann", einen besonderem Abdruck eingefangen, eine Handschrift, ein Riddim, einen Toast, haltbar bis zum "Armageddon".
Fast so perfekt wie Donald Fagens digitale "Nachtfliege", aber klangwärmer, mit verschmitzt aus der Reihe tanzenden Tönen. "Zion Hill" ist ein gut gehüteter Schatz, von einem dieser Unterschätzten, die in ihrer frühen Zeit eminent wichtig waren für die Verwandlung von Rocksteady in Reggae. Und für Insider den Status der Granate Jackie Mitoo hatten.
1977 erblickte "Zion Hill" kurz das Licht der Welt, verschwand umso schneller und tauchte vor Jahr uns Tag in dieser Hammervinylversion auf. Ein "Showcase" für Bobbys Talente – und soviel mehr! Wird man hier nach dem Lieblingsstück gefragt, nennt jeder ein anderes, und ich "Collie Collie", eine Version von Al Campbells "All These Shackles". Alles "Versionen" hier, klar. Sogar eine von "Take Five". Cooking.