Wenn der Tempo mit dem Jukebox-Man kommt …
Die Geschichte glaubt mir ja doch keiner. Egal, ich erzähle sie trotzdem. Ende März war ich mal wieder mit dem Tempo unterwegs: Hochsaison, die Jukeboxen meiner Kunden müssen aus ihrem Winterschlaf geweckt werden, da kann es schon die eine oder andere böse Überraschung geben – als mich eine Nachricht von einem befreundeten Wirt M, der eine traumhafte Kneipe an der Nordsee führt, erreichte. Auf seiner NSM City stimme irgendetwas mit den Anzeigeleuchten nicht (siehe Foto), ich möge vorbeikommen, aber schnell, meinte er. Mist, das Problem dieser Box ist mir wohlbekannt, die Leuchtkette ganz schlecht zu bekommen, noch dazu sündteuer, das schrieb ich ihm. Okay, seine Antwort: "Du kommst bitte trotzdem, um überhaupt mal der Box einen Frühjahrscheck zu verpassen und, damit wir mal ein wenig mehr Zeit haben, bleibst du bitte über Nacht: Überraschung!"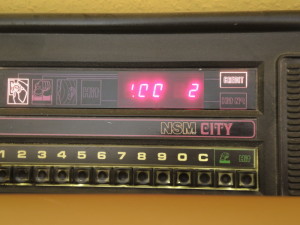 Weiß der Teufel, was mir da bevorstehen sollte, ich hatte Zeit und Lust, also nichts wie hin, an die Nordsee. M hatte seine Wirtschaft noch nicht geöffnet, am 15.04. sollte das Eröffnungsfest starten.
Okay, zuerst die Arbeit: am Abend dann hatte M köstlich gekocht, es gab besten Rotwein. Man stelle sich vor, zu zweit allein im Gastraum, alles für die nahende Saison geputzt, die NSM, außer den Anzeigenleuchten, im Bestzustand; M hatte zur Einweihung der überholten Box Fleetwood Mac, The Doobie Brothers, Chris Andrews und Don McLean gedrückt. Dann bat M mich in ein Zimmer oberhalb der Kneipe, ich wusste gar nicht, dass er dort noch eines hatte und meinte, als wir vor der geheimnisumwitterten Türe standen, da drinnen wäre die Überraschung, aber bitte, ich solle mir doch zunächst mein Zimmer, in dem ich nächtigen sollte, ansehen. Am Ende des Flurs lag das von ihm so genannte Brian Wilson-Gästezimmer. Wo man nur hinschaute, gab es Interessantes zu sehen: hier die große Smile-Box der Beach Boys, dort eine alte Eintrittskarte für ein legendäres Konzert, dann wieder ein Bildband zum Anschauen, bevor einem die Augen zufallen würden. Ein verrückter Kerl, dieser M, und dann noch der Osterhase auf dem Nachttisch, zum nächtlichen Knabbern gedacht.
Dann die Überraschung, M öffnete die Tür zu einem Studio, wie ich es noch nie gesehen habe. Ich hatte Platz zu nehmen, auf einem genau gekennzeichneten Punkt, wegen des optimalen Sounds, dann hieß es Klappe halten und Musik hören. Das mit dem "Klappe halten" musste selbstredend nicht gesagt werden, tauchte ich doch in einen so himmlischen, nie gehörten, nie geahnten Sound ein, unfassbar, unglaublich, unerhört bzw ungehört: Das Programm das M zusammengestellt hatte:
Sonny Rollins: Way Out West (Aufnahme 1957, man fasst es nicht! Platte sofort gekauft, riesig!)
Keith Jarrett: Book of Ways (steht in meinem Plattenschrank, aber nie so auch nur im Ansatz gehört)
Muddy Waters: Folk Singer (dito)
Miles Davis: Kind of Blue (Sonderversion als Doppel-45rpm-LP in der Schmuckbox mit großformatigem Textbegleitheft) M musste dann den Riemen des Plattenspielers umlegen, um 45rpm zu bekommen…
King Crimson: Islands 5:1 surround mix Steven Wilson (sic, die vorletzten Klanghorizonte)
Talking Heads: Stop Making Sense (blu-ray movie, 5:1) (das hätte D. Mitchell umgehauen)
Don Cherry and Ed Blackwell: El Corazon
Caravan: In the land of grey and pink (Platte habe ich sofort bestellt, großartig)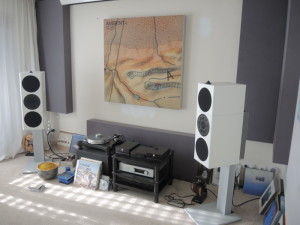 Am späten Abend lud M ins "electric cinema" ein. Das Studio verwandelte sich in ein Kino der Sonderklasse. Schnurrend senkte sich die Leinwand herab, ein Hochleistungs-Beamer von der Sorte "Preis auf Anfrage" nahm seine Arbeit auf, der Ton kam natürlich über die Anlage, gesehen wurde It Follows von David Mitchell (anderer Mitchell natürlich!).</p >
Nie hätte ich gedacht, dass man so Musik hören kann, in der Art Filme schauen kann. Was für eine Erfahrung. Ohne Werbung machen zu wollen, hier die Liste der Maschinen, die dieses Hörwunder vollbracht haben: Die Schaltzentrale von Trinnov Amethyst; die Aktivlautsprecher vorne von Manger Audio; hinten zwei Aktivboxen von Abacus (als Surround-Elemente/Basskontrolle); der Plattenspieler: VPI Prime und der Tonabnehmer: Goldnote Machiavelli; Phonovorstufe: Moon 310LP / 320S und der CD, DVD, Audio, Blu-ray, SACD Allesfresser: OPPO BDP 103.
Was sich doch für Schätze über einer normalen Jukebox-Kneipe verbergen. M sei für diese Hörerfahrung herzlichst gedankt.