"Alles laesst uns glauben, dass es einen bestimmten geistigen Standpunkt gibt, von dem aus Leben und Tod, Reales und Imaginaeres, Vergangenes und Zukuenftiges, Mittelbares und Nichtmittelbares, Oben und Unten nicht mehr widerspruechlich empfunden werden."

(Andre Breton im 2. surrealistischen Manifest)
Hatten Sie auch schon einmal Lust, wie der Mann in dem Film They Live (1988 von John Carpenter) mit einer Sonnenbrille herumzulaufen und aufgefordert zu werden: obey – submit – buy … ?
Welche Musik macht Sie gluecklich? Bach? Beethoven? The Beatles?
Standen Sie schon einmal vor einem Gemaelde und spuerten "Happiness Is A Warm Gun"?
Sie gingen sicherlich schon einmal aus einem Kino mit Gluecksgefuehlen.
An den Weihnachtsfeiertagen hatte ich mir noch einmal den Film Andrej Rubljow von Tarkowski angesehen. Der Film stellt u.a. die Frage nach dem Auftrag der Kuenstler fuer die Menschheit.
Der Ikonenmaler Andrej Rubljow erhaelt vom Grossfuersten den Auftrag, eine Kathedrale mit Ikonen auszuschmuecken. Wir sind im 15. Jahrhundert. Nachdem Rubljow bei einer Schlacht zwischen Russen und Tartaren die menschliche Faehigkeit zu grausamen Taten gesehen hatte, entschliesst er sich, mit dem Malen aufzuhoeren. Erst als ein junger Mann es vermag, eine Glocke zu giessen und deren Klang die Umherstehenden froh macht, entscheidet sich Andrej, wieder zu malen.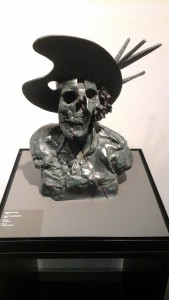 Was ist heute der Auftrag der Kunst? Der von mir so geschaetzte belgische Maler James Ensor versetzt mich mit seinen grotesken Maskenbildern in einen "komischen" Zustand. Seine Masken verstecken die Wirklichkeit: the carnival must go on … Der Duesseldorfer Kuenstler Bert Gerresheim, ebenfalls ein grosser Verehrer von Ensor, versucht mit seiner Vexiertechnik die menschliche Zerrissenheit und Vergaenglichkeit darzustellen. Begegnet man seinen bildhauerischen Werken, bleibt man fasziniert stehen, traeumt, erinnert oder fantasiert.
In vielen Beitraegen hier auf Manafonistas sind begeisterte Stimmen z. B. ueber Musikstuecke von John Cage, Keith Jarrett oder von den 5 liebsten Musikerinnen von Michael zu lesen.
Wie sehr wir von der Kunst getroestet oder beglueckt werden wollen, sollten sich die Kuenstler vergegenwaertigen. Das ist doch der Auftrag! Und nicht vergessen: in der Kunst geht es immer weiter.