And it's funny because your image of a city never really is anything like the reality of it. Having an opinion about a city you've never visited would be like having an opinion about a record you've never heard. But any city with an airport named for the footballer George Best has to be a cool place. Belfast, cool place. Belfast, beautiful city. The pubs in the Cathedral Quarter, Jesus, you could be on a film set. Great bars, great beer. Near those pubs, this mural: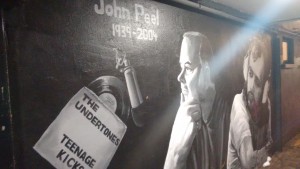 My favourite church is St. Mary's Epsicopal Cathedral in Edinburgh. I don't know why, for the Sacré-Cœur it ain't. Anyway this cathedral in Belfast is totally great. It is slightly austere despite the generosity of its architecture.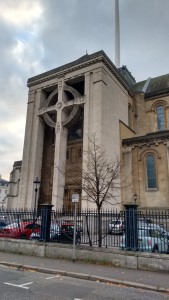 And the train to Dublin is a big expensive-looking bastard that is almost like the Eurostar (but only costs 16 Euro). And getting off the train at Dublin Connolly is a million miles better than arriving by taxi from the airport. Especially at dusk. And you have no mobile data and need another currency yet there is no passport control. No Google maps, no problem – getting lost in unfamiliar cities is one of life's big fat joys. Time passes, streets and streets of life walk by. Familiar but unfamiliar. You give up trying to guess where you're headed and ask someone for directions.

– Excuse me, I'm looking for Great Denmark Street
– Great Denmark Street, Great Denmark street. Yeah. You see that stupid big fuckin' thing over there?
– Ha, yeah. I didn't know it existed until now*
– Fuckin' stupid big thing. Head there, turn left and it's five minutes up the road
– Thanks
– Take it easy

*I looked it up. The locals call it "the stiletto in the ghetto" as well as "that stupid big fuckin' thing". I am reliably informed by a well-known search engine that its official and slightly grander title is the Monument of Light.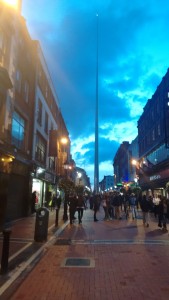 Digression one: The Marlboro packet in Ireland says "Déanann caitheamh tobac díobháil thromchúiseach duit agus do na daoine mórthimpeall ort" and I'm like, ahh, fuck off. In Magyar you were all like " A dohányzás blah blah blah" you big ride ye.
Digression two: Slideshow, seaside town, Coca-Cola football radio radio radio radio radio…








And I love that bit of some cities where the river cuts 'em in two. A border/non-border. Düsseldorf and the Rhine, Glasgow and the Clyde, LDN and the Thames, Paris and the Insane, Buda Danube Pest. Liverpool and the Mersey. Dublin and the Liffey. Like most city rivers, the actual water looks mucky as fuck. But whoever or whatever made the cosmos made this, and that must be a good sign. Day and night.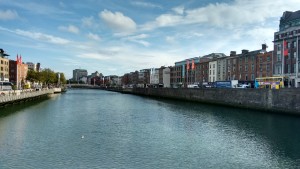 And it was the cosmos that made this. Copyright, The Universe.
Digression 3. Megastructures in space.
And when there's airports whose architecture is poetry, we'll have music for fuckin' airports. No headphones required.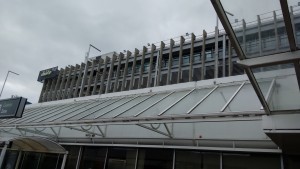 And then you're back in Glasgow, suddenly, and you see this and you smile. (And And! And…)








Reference alphanumeric material:
James Joyce, Ulysses
Robert McLiam Wilson, Eureka Street
WB Yeats, Down By the Salley Gardens

Reference audio material:
Stiff Little Fingers – Alternative Ulster
U2 – Promenade, MLK, Shadows & Tall Trees
The Cassandra Complex – What Can You Say?
Pierce Turner – The Sky & The Ground
John McCormack – She Moved Through The Fair
Microdisney – Money For The Trams
Fatima Mansions – Only Losers Take The Bus
Van Morrison – Did Ye Get Healed?