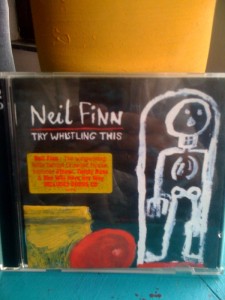 "Mir scheint immer dort, wo ich nicht bin, waere ich gluecklich, und wo wir unseren Aufenthalt nehmen koennten, ist eine der Fragen, ueber die ich mich unaufhoerlich mit meiner Seele unterrede." Baudelaire: "Any where out of the world."
Dieses mal wollte sie weit weg, hoch hinauf. Genauer gesagt auf den Mount Cook, wo sie sich mit ausgebreiteten Armen auf einem schmalen Felsvorsprung stehend sah, lachend, laut singend.
Aller Philosophie zum Trotz hatte sie sich allein in diese Einsamkeit begeben. Henri Bergson hatte gewarnt:" Das Lachen bedarf des Echos."
Und wie schoen ihre Stimme echote!

"Call me loyal,
I'll say your loyal too.
I can't remember last time I thanked you,
keeping my distance unintentionally
Too close for comfort, just ain't close enough …"
LOYAL sang Dave Dobbyn, ein gebuertiger Kiwi, eine grosse neuseelaendische Stimme, virtuos am Bass, Gitarre und Piano auf dem legendaeren Konzert in Wellington 2000. Er hat alle musikalischen Preise in seinem Schafsfell versteckt.
Nach den Bergtouren durchstreifte sie mit einem Maoriguide den Regenwald. Sie wollte in ihr Spezialgebiet 'Glazialmorphologie' vorruecken. Unterwegs testete sie staunend und vollkommen unbedenklich allerlei Pflanzen, die ihr der Maori reichte. Auf ihrem Gesicht stand ein seliges Laecheln bis es von einem grossen WOW abgeloest wurde: Sie standen vor dem Franz Josef Gletscher. Ein Gletscher in 200m Hoehe mitten im Regenwald? Das ploetzlich sich vor ihnen ausbreitende Geroelltal, durchstroemt von taubenweissem, reissendem Gletscherschmelzwasser, liess ihre Sinne taumeln. Sie jokte mit dem Maori, was das wohl fuer Pflanzen gewesen seien?
Abends, im "Glow Worm Cottage" sass ein junger Wanderer neben ihr. Er strich ihr unvermittelt das Haar nach hinten und stoepselte einen Kopfhoerer in ihr Ohr. Laechelnd hoerten sie gemeinsam einem Song zu. "Yeah, I know this guy, Dave Dobbyn. What's the name of the song?" LANGUAGE.
"When I needed you most
I couldn't find a language
When I needed you more
I couldn't say a word …"
Listen to the next song, it's from Tim Finn. The singer of the famous Band Split Enz. It's my favorite: SIX MONTHS ON A LEAKY BOAT. I was overwhelmed, what a drive!
Six months on a leaky boat appeared on the album "Time and Tide [1982].
Sie mietete ein Wassertaxi raus in den Abel Tasman Park und liess sich in der Bark Bay absetzen. Sie wanderte durch riesige Farnwaelder, auch angstvoll ueber eine lange Haengebruecke. In der Torrent Bay wurde sie abgeholt. Im "Wild Coast Café" ruhte sie sich aus. An den Waenden hingen Posters von Kaikoura: World of the whales. Dorthin wollte sie nicht.
Der Milford Sound wartete. Dort tuckerte sie auf einem kleinen Schiff namens ' Friendship' durch die Fjordlandschaft bis zum offenenen Pazifik. Nie zuvor und auch nicht mehr danach hatte sie solch ungeahnte Schoenheit in der Natur gesehen.
Bevor sie die Rueckfahrt ueber die enge Cook Strait antreten wuerde, wollte sie noch den Goldwaeschern am Grey River zusehen. Man traf sich am nahegelegenen "Westcoast Center" und tauschte Adressen aus.
"Light weight dream date
Fly or fall, it's my call
In the club, halfway up
Whisky at five, a weekend retreat."
DREAM DATE ist von Neil Finn, dem Bruder von Tim. Sie spielten zusammen in der legendaeren Split Enz Band. Neil Finn trat letzte Woche in Bruessel auf. Er hatte seine Frau und seinen Sohn Liam dabei. Sie hatte unter ihrem Poncho eine Flasche Marlborough Chardonnay dabei und liess die Flasche kreisen. Sie lachten mit feuchten Lippen als Neil Finn TRY WHISTLING THIS zu singen begann. Henri Bergson haette das komisch gefunden. Unser Echo.