It's almost august, windy, rainy and cold in Amsterdam. Good to leave for 10 days in warmer Lisbon to attend renowned Jazz em Agosto Festival there at the Gulbenkian Foundation.
It was in the summer of 2008 that I first got in contact with this Lisbon Festival organized in the first two weeks of august by the Gulbenkian Foundation. I came to Portugal at that moment to join two concerts of the group of ûd-player Rabih Abou-Khalil with fado singer Ricardo Ribeiro*, first at coastal place São Martinho do Porto and then at Centro Cultural de Belém in Lisbon. I travelled with my 14 year old son Dikran and when we were in Lisbon, we stayed in an apartment in Alfama, at the foot of the Monastery Såo Vicente de Fora. Alfama is Lisbon's oldest district, the old Moorish town spreading on the slope between the São Jorge Castle and the Tejo river. The great 1755 Earthquake did not destroy the Alfama, which has remained a picturesque labyrinth of narrow streets and small squares. It was the best possible first acquaintance staying in the Alfama labyrinth.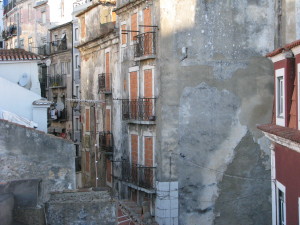 Except the Rabih Abou-Khalil concert I had two appointments there, one with pianist Sylvie Courvoisier who was performing at the festival Jazz em Agosto, and then other with Pedro Costa of Clean Feed Records at the record shop Trem Azul on Rua do Alecrím near landing point Cais do Sodre at the Tejo river**.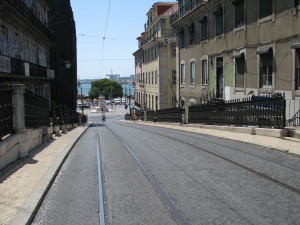 In retrospect prominent scenes of concerts and personal meetings pop up immediately of the four editions of Jazz em Agosto festival I attented: the playful performance of bassist Barre Phillips and accordionist Philippe Contet (2008), the conduction of Butch Morris (2009), the performance of legendary trumpeter Bill Dixon with Chicagoan Exploding Star Orchestra (2009), the concert of the 19-piece Electro-Acoustic Ensemble of Evan Parker (2010), the first performances of Peter Evans (2009) and of saxophonist Darius Jones (2011) I ever saw, and Wadada Leo Smith's ensemble Organic (2011). I have lively and precious memories of talks with Sylvie Courvoisier, Hernani Faustino, Pedro Costa, Rodrigo Amado, Gabriel Ferrandini, Rodrigo Pinheiro, Bill Dixon, Jack DeJohnette, Darius Jones, Ingrid Laubrock and Cecil Taylor.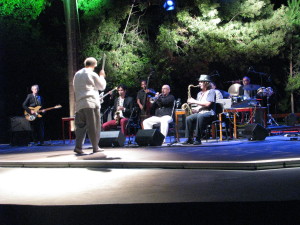 It would have been impossible at other festivals to meet musicians and groups like in Lisbon and see them working and performing in such lush urban ambiance. Especially the atmosphere of the nightly outdoor concerts at the amphitheatre in the park of the Gulbenkian Foundation Is unforgettable and a special experience again every time. This year the number of concerts are reduced but will all be outdoors in the amphitheatre.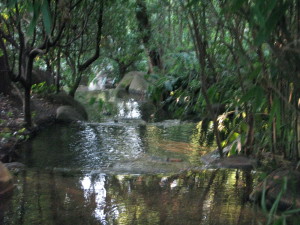 This year's program offers a challenging melange of European and North American spearheading music. It starts on Friday, July 31, with a strong Scandinavian glaciation stream mainly from Sweden, the 19-piece Fire! Orchestra and the quintet Swedish Azz complemented by Austrian-Portuguese orchestral power with the Orquestra Jazz de Matesinhos from Porto with the update of Michael Mantler's ground-breaking work for the first Jazz Composer's Orchestra in 1968***.
This will be followed in the second half of next week by the Portuguese Red Trio joined by extraordinary British reedist John Butcher +. Thursday and Friday will have two impure jazz combinations: DJ Illvibe s will enter a playful family party with elderly legends Aki Takase and Alexander von Schlippenbach. Norwegian bass-canon Ingebrigt Håker Flaten will join forces with some hard-boiled young musical beasts called The Young Mothers****. It will all lead into a double peaking apotheosis, first the trio of Wadada Leo Smith, Henry Threadgill and Marcus Gillmore performing Wadada's Great Lake Suites and then ending up with Orchestre National de Jazz*****.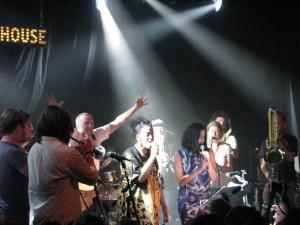 Mats-olof Gustafsson is the man of this year's festival summer. Artist in residence at Moldejazz and multiple appearances with "his" 19-piece Fire! Orchestra at European festivals******. And also at Jazz em Agosto he will act in an important role. It reveals he is a kind of core artist of the festival:
"Gustafsson has performed at Jazz em Agosto nine times, making him the festival's most frequent performer. Those concerts have covered a broad spectrum, including appearances as a featured performer in other people's bands, often with strong evidence of the free-jazz inheritance." (p. 72 (Broomer e.a.)).
For the 30th edition of the festival in 2013 the Gulbenkian Foundation produced a book with 50 profiles out of musicians and groups who had played the festival, from Muhal Richard Abrahams to John Zorn:
Stuart Broomer/Brian Morton/Bill Shoemaker, Arrivals/Departures – New Horizons at Jazz em Agosto, Lisbon. Gulbenkian Musica. Lisbon 2014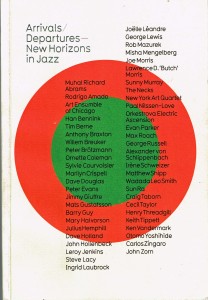 *
It is related to the album Em Portugues (released in september 2008 on Enja label)
**
The interview with Sylvie Courvoisier was published in German magazine Jazzthetik. In the Clean Feed item nobody was interested in Germany or The Netherlands then.
***
It was also performed at Moers Festival with the Austrian Grand Cuisine Big Band. See my review.
****
See my recent radio program
+
See my radio program in 2011
*****
See my review of the orchestra's appearance at Moers Festival and Jazzdor Berlin
******
See my review of Copenhagen Jazz Festival


©FoBo_HenningBolte