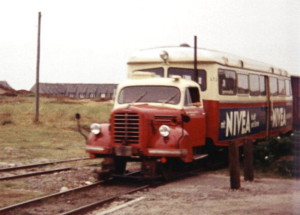 Das magische Jahr 1968 hatte sich fuer mich eine Reise mit einem Zwittermobil ausgedacht: vorne LKW – hinten Bahnwagen. Das war die rotgelbe Inselbahn, Marke Eigenbau, von Sylt. Was fuer ein Glueck, dass ich noch mit ihr fahren konnte. Wir waren damals nur mit Schlafsaecken auf die Insel gekommen, schliefen in den Duenen, Lieblingsort war das Kliff in Morsum. Es war unser summer of love – "Wir waren frei, es war das Paradies …" (Rio Reiser). Natuerlich war es immer windig, der dustbowl drohte, dann sprangen wir in die Inselbahn und fuhren mit. 1970 wurde die Linie 1 von Sylt eingestellt, jammerschade.
In den 90ern waren wir mit den Kindern einmal im Sommer und einmal an Sylvester auf Sylt. Wir wohnten immer in Hoernum, was mir genauso wenig gefaellt wie Westerland. Aber die Wanderduenen haben eine unvergleichliche Schoenheit, der Mond ist nicht weit, man macht den ersten Schritt und vergisst die Siedlungswelt. Vor ein paar Jahren war ich dann noch einmal auf meiner deutschen Lieblingsinsel. Ich hatte geraten, was Biikefeuer sind, Antenne Duesseldorf bedankte sich mit einer Reise fuer zwei Personen per Flieger nach Westerland. Wenn schon Luxus, dann pur. Wir gingen sofort in die Sansibar und waren morgens schon in der Friedrichstrasse. Die grosse Welle machten wir nicht mit, dafuer nahmen wir den Tortentest in der Kupferkanne in Kampen.

"Thank you for the days, I won't forget a single day" (The KINKS).
Next stop: Sylt 14.5.2015 – First step to Keitum St. Severin.
So exciting: "Who you really are" (Bob Dylan).