Wenn der Tempo mit dem Jukebox-Man kommt …


Inzwischen mache ich das ja nur noch so nebenher, nur noch in zwölf Kneipen stehen meine Boxen, sechs Wurlitzer, zwei von der Firma NSM, drei Rock-Ola-Boxen und eine Seeburg. Drei Boxen habe ich in Gaststätten auf verschiedenen Nordseeinseln aufgestellt. Eine der Inseln kann man im Winter, wenn überhaupt, dann nur höchst selten erreichen. Kurz vor Saisonende machte ich mich deshalb auf, genau dieses Lokal aufzusuchen. Um diese Zeit wäre ich wahrscheinlich mit der Wirtin allein, nichts mehr los auf der Insel, und könnte mich in Ruhe um die gute alte Box kümmern. Die Kneipe ist untergebracht in einem alten Leuchtturm – urgemütlich – und in einer Ecke steht meine gute alte Wurlitzer 1900 Centennial. Voller Vorfreude belud ich meinen alten, treuen Tempo mit der Werkzeugkiste, Ersatzteilen für Wurlitzerboxen und den aktuellen Austauschplatten. An den Inselparkplätzen angekommen, galt es das ganze Gepäck zum Schiff zu bringen, zwei Stunden später atmete ich tief durch, ich war auf einer meiner Lieblingsinseln.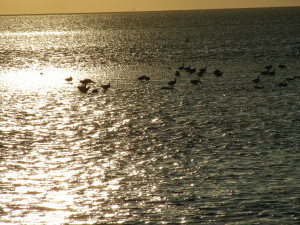 Und tatsächlich, meine Leuchtturmkneipe war fast leer, in einer Ecke am Fenster saß ein Mann mit Trenchcoat, trank seinen Cappuccino und einen Cognac und schrieb irgendwas in sein Notebook. Die über mein Kommen höchst erfreute Wirtin flüsterte mir warnend zu, den Herrn ja nicht anzusprechen, er sei sehr schlecht drauf, wäre wohl ein BVB-Fan, der hier auf der Insel etwas Abstand zum Bundesligageschehen suche und in Ruhe an seiner Kolumne GESCHICHTEN EINES ABSTEIGERS schreiben wolle. Okay, okay, hatte auch gar nicht vor, mit irgendwelchen Gästen Fußballgespräche zu führen, schnell wäre herausgekommen, dass ich 96er-Fan bin und viel Leid hinter mich gebracht hätte, als Hannover in den Neunzigern drittklassig geworden war. Der Gast hätte mir dann erklärt, dass man ja schließlich auch nicht Dortmund mit Hannover vergleichen könne und dergleichen Abgründe mehr und da war es doch besser, mich um die Box zu kümmern.

Die Wirtin hatte mir gesagt, dass es dieses Mal nur wenig zu schrauben gäbe, der Münzeinwurf würde ab und an hakeln, das Shure System sollte ich wohl mal überprüfen und dann veränderte sich der Gesichtsausdruck der Wirtin. Sie meinte – seltsam schüchtern, aber ernst – es gebe eine Menge Gäste, vor allem die Insulaner, keineTouristen, die hätten sich ernsthaft über den letzten Plattenwechsel beschwert. Was das eigentlich solle, jedes Jahr zweimal 20 aktuelle Platten zu bringen, ob eigentlich mein einziges Kriterium die Aktualität der Songs sei und überhaupt: hier, das sei die Wunschliste der einheimischen Gäste. Wenn ich wolle, dass die alte Wurlitzer weiterhin schnurre, dann solle ich zusehen, dass die gewünschten Scheiben sich bald in der Jukebox befänden. Sprachlos nahm ich die Liste entgegen. Da hatten sich tatsächlich Gäste zusammengesetzt und zwanzig Platten, erschienen zwischen 1958 und 2012 herausgesucht. Die Mischung war abenteuerlich, sie reichte von Paul Ocean bis Van Morrison, von Daniel Lanois bis J.B.Lenoir. Hier ist sie, die Liste:


Ray Davis – Other People´s Lives: The Tourist (2006)
Alison Krauss & Union Station – Paper Airplane: Bonita and Bill Butler (2011)
Jackie Leven with David Thomas – Defending Anciet Springs: Single Father (2000)
J.B.Lenoir – Eisenhower Blues: I don´t know (1958)
Daniel Lanois – Acadie: The Maker (1989)
Dave Davis – Hidden Treasures: Susannah´s Still Alive (1967/2011)
Donovan – The EP Collection: Universal Soldier (1965/1990)
Bob Lanois – Snake Road: The Vampire (2006)
Katia Labéque – Shape of My Heart: Moon over Bourbon Street (2009)
David Kitt – The Black and the Red Notebook: And your Bird Can Sing (2004)
Jason Lytle – Department of Disappearance: Matterhorn (2012)
Frank Ocean – Channel Orange: Bad Religion (2012)
Matchbox20 – Yourself or Someone like You: 3 am (1996)
Joni Mitchell – Blue: California (1971)
Phil Manzanera – 50 Minutes Later: That´s all I know (2005)
Loudon Wainwright III – Strange Weirdos: X or Y (2007)
Van Morrison – T.B.Sheets: He ain´t Give You None (1973)
Timmy Thomas – Why can´t we live together: Why can´t we live together (1972)
Gillian Welch – Time: My first lover (2001)
Gregg Allman – Low Country Blues: Please Accept My Love (2011)


P.S. Ich kann nichts dafür, aber der schreibende BVB-Fan sprach mich von sich aus an und fragte mich, ob ich Yesterday Man von Chris Andrews dabei hätte, das sei eine Platte, die könne ihn jetzt vielleicht etwas aufmuntern. Ich musste den Herrn enttäuschen, ich hatte diese schöne Single nicht im Gepäck. Ob ich ihn denn irgendwie sonst helfen könne? "Nein, nein", meinte der Gast, " nach den Jahren der Freude galt es schon einige bittere Pillen zu schlucken, aber das ist die bitterste. Der BVB 09, der Ballspielverein Borussia Dortmund (lassen Sie es mich gleich aus der richtigen Perspektive schreiben!) ist abgestiegen." Schweigend tranken wir einen Cognac (aus der geheimen Seekiste der Wirtin entnommen), dann verabschiedete sich der Gast und ging.