– Could you imagine to fall in love with someone you don´t know personally?
– Sure.
– How would this work?
– Easy way. The right words would do.
– Just words?
– Well, we are talking about a beginning, aren´t we?
– Seems as if you had several experiences with this topic.
– Everyone has.
– What about the voice?
– Very important.
– More important than the contents?
– Bullshit. Both has to hit right the point inside.
– What about a voice with the right content – but without a body?
– Are you kidding?
– No way. Could you imagine this?
– To fall in love with a voice?
– It would not only be a voice, but a consciousness.
– (Short pause). It would work.
– What about this voice would be produced by a computer?
– Are you crazy? A computer isn´t able to a real communication.
– Maybe in a few years. Could you imagine?
– Yes. But the voice has to be really good. And he has to say really good things.
– The voice is brilliant. And he would know anything about you.
– Anything…
– Okay. Let´s say: much.
– Let´s say: Only what I´d liked him to know.
– No, a little bit more. It´s a brainy one.
– And we would really talk?
– You would. Could you imagine this voice to be your best friend?
– Maybe.
– Your love?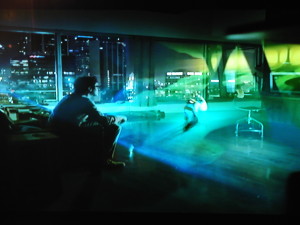 "Her". A Film by Spike Jonze.
A view just on the cover can be delusive. (This foto is not a foto of the DVD-cover.) It´s not an eyecatcher. Neither the title. Nor the categories "love" and "comedy". It´s rather a tragedy. Worth watching.