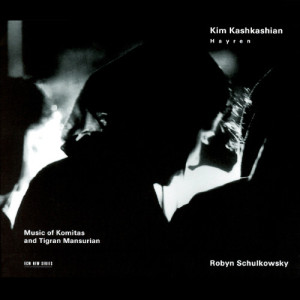 Griot 5 – Last year Armenian pianist Tigran Hamasyan and sample maestro Jan Bang perfomed here at PUNKT: it was fabulous. Tigran used eastern roots and melodies, and – obviously – played with some ECM 70´s record memories, Jan Garbarek, Ralph Towner, Keith Jarrett … Jan provided ghost echoes.
Afterwards I asked Jan to send me a tiny two minute excerpt for my radio review about Punkt No 9. I emailed to the headquarter for ECM Records and Manfred Eicher not to miss the JazzFacts at the Deutschlandfunk. Manfred was impressed. Weeks later, the famous studio in Lugano was booked, for Tigran, Jan, Arve Henriksen and Eivind Aarset. I was invited and became a witness of one of the most stunning ECM productions of the 21st century. No kidding again, no fishing for compliments, I mean it. I think Tigran´s quartet music will be released as a double album at some time in 2015.
Manfred Eicher is experienced with the history of Armenian music, the Armenian blues, so to speak, the still officially denied genocide – and prepared the production, for example, by sending Tigran a copy of the record you´ve just heared: the album Hayren is dedicated to the music of Komitas and Mansurian, and on this short song the Kim Kashkashian´s viola is accompanied by the piano and the untrained voice of Mr. Mansurian. I think they´ve recorded a version of this in Lugano, too. Better said, I know.
At one point in the mixing (Arve was meanwhile on his way home), Jan Bang very kindly said to Manfred something like this: "Manfred, ahem, I think the intro of Arve was a little bit too long, it was beautiful and everything, but there was a bit too much Jon Hassell in it. Can we make it a little shorter?"
Manfred listened, and then something "quite nice" turned into something breathtaking: they cancelled the opening part of the trumpet solo, and let – after a while – the trumpet appear slowly out of a fog or a bush of the electronic ghosts Eivind Aarset had created with his guitar. The emotional impact was immense. And I think Jan and Arve are still friends :)
(Drinking water)
A day later Evind Aarset and I sat in comfortable chairs im the Senator Lounge of Zürich airport. We were in a quiet mood, may be a bit exhausted or fulfilled, i dunno. We spoke about our favourite TV series: TRUE DETECTIVE SEASON ONE. Deepest noir, great actors, fantastic soundtrack. T Bone Burnett.
Three weeks ago, I received another noirish piece of art. I listened to its 31 minutes, then I listened again, and again, and again. And again. I listened to nothing else for days. Everything`s stripped down. It´s about seduction, rape, deception, murder, dying, suffocating, loneliness.
And then I heared a fucking egghead commenting this album on air: "Oh yeah, she´s the real thing, the unknown daughter of blues man Robert Johnson, It´s dark, yeah, but it´s groovy. A real feel good album."
The production is crisp. (…) The producer of Mirel Wagner´s album WHEN THE CELLAR CHILDREN SEE THE LIGHT OF DAY is a member of the extended Punkt family, you don´t expect him here, in a purely acoustic world. Sasu Ripatti, known as Vladislav Delay. "The Dirt"
7) Mirel Wagner: The Dirt
Griot 6 – Stone-cold masterpiece. When it comes push to shove and someone asks me for my desert island journey: Mirel Wagner's "Cellar Kids"-album or Schubert's "Winterreise": Mirel's record would be part of my trip, for sure. I may now see now some raised eyebrows …
In the same way Tom Hardy said near the end of that terrific movie "Locke": "If i've learned one thing tonight, it's this: Fuck Chicago!" – I would say after a lifetime of listening to music: "Fuck canonisations!"
April in London. 2014. Five great days. Living in Guy Sigsworth's house. Discovering a new favourite Indian restaurant in Upper St. Martin's Street. Sitting on a deckchair in Hyde Park.
Going underground, a station of the Metro, thinking of Ezra Pound´s poem:
"The apparition of these faces in the crowd,
Petals on a wet black bough".
Preparing an interview with Brian Eno and Karl Hyde. Memories.
8) Eno Hyde: TO US ALL (LAST SONG) STARTS (the first two minutes are instrumental and shall provide a nice background texture for my reading)
In 2006 Simon Jeffes, the proprietor of the Penguin Cafe visited me in my home in Dortmund. I did the first blindfold test of my life with him. One track I played was Eno's "Alhondiga" from his album THE SHUTOV ASSEMBLY. He commented on it something like that:
"Oh, I'm not so fond of electronic music, but this piece has a charming atmosphere, even something haunting. And there is this one sound, ting, that sounds like you´re clinging a spoon at a cup of tea. It's pure electronic music, but, surprise, I love this one. You know, Michael, I'm dreaming of new worlds for the Penguin Music that might even include electronics. I call it "Organic Garden". Simon Jeffes was full of ideas. One year later he died of brain cancer.
The last song on "Someday World" from Eno & Hyde is called "To Us All". You´re listening to it now. Do you hear the smooth sounds, the incredibly warm, embracing texture? Isn´t it something that reminds you of Children TV programms in the Sixties?
And then the vocals … like pop music before pop lost its innocence, think of the whistling tune of "Winchester Cathedral", think of Flipper and Porter Ricks and the Monkees on TV … Bygmesger Bob, Lukas und der Lokomotivführer, Peter Pan …
But, well, it´s more of a "lullaby for the end of the world", there´s yearning, there´s sadness, there´s bitterness in it … As Laurie Anderson once told me: "Eno can be an expressionist", and I may add, sometimes he can hide the expressionism in a quite disturbing way …
"From the blood that we just we couldn't spill
From the ones that we just couldn't kill
We spin a world in a dizzying fall
To see the things that will happen to us all."
8) Eno/Hyde: To Us All (final part with singing)