Desert island: a remote uninhabited tropical island.

"I feel like growling, packing a bag and heading for a remote desert island where only the wind bothers to whisper."
Desert islands scheinen in erster Linie tropisch gedacht zu werden – ja Crusoe als immerwährendes Leitbild – aber es gibt natürlich auch genug abgelegene unbewohnte Inseln im (sub)arktischen Bereich oder vor der Küste von Kamchatka. Was man dort mit Tonträgern anfangen will, weiss der Geier.

Was man sich wohl vorstellen kann: Musik, an die man sich wohl am ehesten erinnern wird und die man in der Einsamkeit summt – wartend auf das rettende Boot oder den Hubschrauber. Und sowieso, weil der Wind der ständige singende Geselle ist.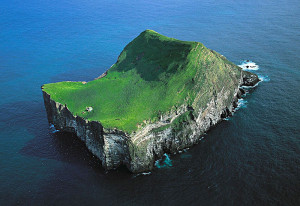 Diese abgelegene Insel vermachte Island seiner Künstlerin Björk Guðmundsdóttir. Man kann sich gut vorstellen, dass dort Musik e n s t e h e n kann. Man kann sie fast schon beim Anschauen hören.