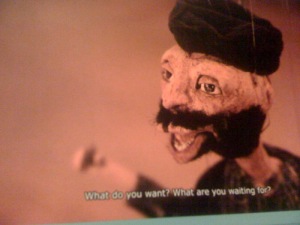 Heute fand wieder eine Welturauffuehrung in Duesseldorf statt.

Dieses Mal war der aegyptische Kuenstler anwesend und erklaerte erfreulicherweise sehr ausfuehrlich. Wael Shawky produzierte eine filmische Trilogie, die er nach den Kreuzzuegen [1095-1204] 'CABARET CRUSADES' nennt. Im ersten Film 'The horrorshow file' benutzte er Marionetten aus Holz. Im zweiten Film 'The path of Kairo' waren die Marionetten aus Keramik. Im dritten Film 'The secrets of Karbala' verwendete er Glaspuppen, die er aufwendig in Venedig aus Muranoglas anfertigen liess.

Heute war nun die Welturauffuehrung des dritten Teils. Die Marionetten aus Muranoglas sind unglaublich fragil, bewegen sich aber trotzdem behende wie die Augsburger Puppen. Es klappert sehr schoen und zum Glueck hat der Kuenstler die Fidjeri Musik auch im dritten Teil beibehalten. Fidjeri Musik ist eine Musik, die vor 800 Jahren von den Perlfischern in der Golfregion gesungen wurde. Wael Shawky hat die Klaenge aus Bahrain ausgesucht.

Zu der Vokalmusik koennen die Marionetten sehr grazil tanzen. Zart geht es allerdings in diesen Filmen ganz und garnicht zu. Aus dem ersten Film ging ich sehr nachdenklich raus. Was fuer eine Parallelzeit fand denn da statt? Die Marionetten schlugen so grausam aufeinander ein, dass man nicht umhin konnte, an die aktuellen Kriege im Irak oder Syrien zu denken. In seiner dargestellten Geschichte ging es um die Stadt Kerbala, in der im Jahre 680 jene Schlacht stattfand, die die Muslime in Schiiten und Sunniten spaltete.

Shawky sagte, dass die Araber bis heute nicht gerne ueber diese Spaltung sprechen. Er habe dieses Thema bereits vor der arabischen Rebellion vorgestellt. Ich habe die Kreuzritterburgen vor vielen Jahren in Syrien besichtigt. Sie sind alle zerstoert. Nun sah ich sie wieder liebevoll aufgebaut von Wael Shawky.

Ein Trost ist das nicht.