… also, das geht ja eigentlich gar nicht. Da muss erst die Süddeutsche Zeitung so einen Glückwunsch zum siebzigsten Geburtstag von Ray Davis veröffentlichen und in dem Artikel auf eine Platte aufmerksam machen, die zum Urbestand meiner Plattensammlung gehört, um mich auf die Idee zu bringen, diesen Edelstein unter den tollen Kinks-Platten einmal wieder aufzulegen. Wie oft hat mich diese LP aus dem Plattenschrank heraus angebrüllt, "Leg mich auf!", und wurde nicht gehört. Jetzt erst habe ich sie wieder aufgelegt und: eine Offenbarung, was für wunderbare Musik. Klar, die Rede ist von der Kinks-LP Face To Face.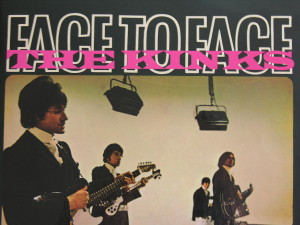 Wie oft habe ich diese Platte wohl, als Dreizehnjähriger für 21,00 Mark sauer erspartes Taschengeld gekauft, gehört und dann geriet diese Schallplatte mindestens 40 Jahre in Vergessenheit. Tief beeindruckt hatte mich damals, dass es auf dieser Platte, ähnlich sollte es mir ein Jahr später, 1967, mit der LP Sgt.Pepper's Lonely Hearts Club Band von den Beatles ergehen, fast keine Ausfälle gibt, jedes Stück hatte seinen ganz eigenen Reiz. Und dann dieser Cembalo-Sound … Naja, jedenfalls enthält diese HIT-TON-Schallplatte, auch Mono abspielbar, erschienen im Vertrieb der Deutschen Vogue GmbH, 14 Ray Davis-Kompositionen ( nur bei einer – PartyLine – hat Bruder Dave Davis mitgeholfen). Seite 1 Beginnt mit eben diesem Party Line, gefolgt von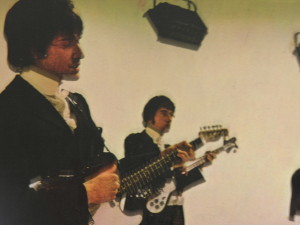 Rosy won´t you please come home – ein herrliches Stück, hört man fast nie im Radio – , dann Dandy (die SZ schreibt, das sei der einzige Nummer-Eins-Hit der Kinks in Deutschland gewesen, was zu erfahren mich überrascht hat), Session Man, das gewittrige Rainy Day in June und schließlich House in the country. Platte umdrehen! Seite 2: Es geht los mit dem Meeresrauschen-unterlegtem Holiday in Walkiki, dann Most Exclusive Residence for Sale, Fancy, Little Miss Queen of Darkness, You´re lookin´Fine, ja und dann auch Sunny Afternoon und schließlich I´ll Remember.
Wow! Noch Fragen?

P.S. … und hier noch: Hinter dem Deich: eine der letzten ihrer Art!