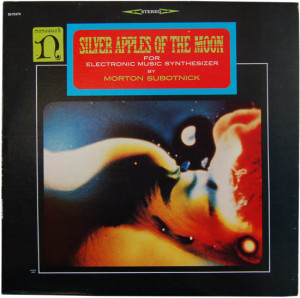 "We´re on the edge of something so enormous, … the first language, the first writing … this is the first of a huge change in the entire world … if I truly have the ability to be part of this, whatever it is going to be … and even the tiniest impact … how can I give that up?" (Morton Subotnik)

1967

Die Top 10 Album Charts dieses Jahres – Beatles "Sgt. Pepper" und "Magical Mystery Tour", Velvet Undergrounds Album mit Nico, Jimi Hendrix "Are You Experienced", Pink Floyds "The Piper At The Gates Of Dawn" uva. – zeigen völlig neue Richtungen der Rock und Popmusik auf. Surreale Texte treffen auf ungewohnte und neuartige Klänge, die diese Musik faszinieren lässt. Neben unkonventionellen neuen Aufnahmemethoden in immer gigantischeren Tonstudios, sind es vor allem auch der Mut zum musikalischen Experiment, sowie der technische Fortschritt bei synthetischen Klangerzeugern, die diese Klänge erst möglich machen. Zum neuesten Schrei gehören neben diversen Farfisa- und Hammondorgeln, der Moog Synthesizer sowie das Mellotron (die erste analoge Sample-Maschine). Allen gemeinsam ist eine herkömmliche Klaviertastatur, um die elektrischen Sounds auch in übliche Tonreihen ordnen und wiedergeben zu können. Weiße und schwarze Tasten, 12 Halbtöne in einer Oktave, wie eben schon beim Bach'schen Cembalo. Nicht so auf einem weniger bekannten Album mit dem psychedelischen Titel "Silver Apples Of The Moon" (1967). Komponiert und eingespielt auf einer neuen elektronischen Höllenmaschine ganz ohne Tastatur von einem wahrhaften Pionier der elektronischen Musik: Morton Subotnick.


Tape Music Center, San Francisco

Dem IRCAM (Paris) oder Studio für elektronische Musik des WDR (Köln) ähnelnd, wirkte das San Francisco Tape Music Center in den 60er Jahren als Forschungszentrum für Komponisten im Bereich der elektronischen Musik. Natürlich war mir das Institut als Name bekannt, denn Terry Riley und Steve Reich entwickelten dort ihre ersten Tonbandstücke (Mescalin Mix, Its Gonna Rain, Come Out) und lieferten damit die Grundsteine für ihren erfolgreichen minimalistischen Kompositionsstil. Nicht bekannt war mir die Tatsache, dass das Tape Music Center 1962 von Morton Subotnik und Ramon Sender gegründet wurde. In Zusammenarbeit mit dem Physiker Don Buchla entwickelten sie dort einen neuartigen elektronischen Klangerzeuger, der nur über berührungsempfindliche Touchpads und Drehregler gesteuert wurde: die "Buchla" (1965). Wie originell die Idee damals war, wird deutlich, wenn man heutzutage die massenweise Verbreitung des Ipads als Touchscreen-Controller verschiedenster Musiksoftware und Hardware betrachtet. Dennoch hat auch heute die Buchla ihren Reiz noch nicht verloren: Selbst Sampler-mastermind und Noise Art Künstler Bob Ostertag hat 2011 sein Album Motormouth nur mit der Buchla komponiert und eingespielt.


Silver Apples Of The Moon

Eine halbe Minute lang hat man das Gefühl, eine persische Flöte zu hören – bis sich die Klänge rhythmisch in teils zufälligen Tonhöhen immer mehr verdichten. Gerade hier am Anfang wird deutlich, wie feinsinnig die Buchla komplexe melodische Linien bilden kann. Einem Gesang oder akustischen Blas- oder Saiteninstrument ähnelnd, wird hier eine 4 Tonreihe in Mikro-Intervallen durch leichte Glissandi miteinander verbunden und mit Verzierungen versehen. Bei Wiederkehr eines ähnlichen melodischen Motivs nach etwa 2 Minuten hat man, durch die nun tiefere Lage, fast die Assoziation, ein Tier stöhnen zu hören. Neben auskomponierten Motiven finden sich großflächige Zufallsoperationen von kurzen, in sich immer wieder verändernden Tonreihenfolgen. Heutzutage würde man dergleichen wahrscheinlich auf einem Computer mit Max/MSP Patches prozessieren. Zufallsoperationen waren natürlich in der Instrumentalmusik der Avantgarde während der 60er Jahre absolut gängig (u.a. John Cage, Morton Feldman, K.Penderecki), doch einen synthetischen Klangerzeuger, der diese Operationen übernehmen konnte, musste man bis zur Erfindung der Buchla vergeblich suchen.
Große Vielfalt zeigt auch der Klangreichtum in Silver Apples Of The Moon. So glaubt man sich nach etwa 6 Min in einer Welt eines frühen Karlheinz Stockhausen (Studien/Gesang der Jünglinge) wieder zu finden. Allerdings treten auch hier immer wieder Pattern-orientierte Sequenzen zum Vorschein, die gleichzeitig den Eindruck erwecken, einer Produktion aus den 80er Jahren mit MIDI Sequenzer zu lauschen. So werden auch im 2. Teil der Komposition über 7 Minuten hinweg rhythmisch-melodische Patterns in verschiedenen Längen und Klangfarben aufgebaut. Die Musik lässt den Hörer mit der Zeit vergessen, dass hier eigentlich eine Maschine performt, denn nach und nach hat man den Eindruck, einer traditionellen afrikanischen Gruppe zuzuhören (ja, tanzen zu sehen): verschiedene Trommeln, Xylophone und Saiteninstrumente mischen sich mit einem langsam aufbauenden Gesang, der unerbittlich immer längere Töne in hoher Sopranlage über die fast schon "tanzenden" Rhythmen legt.
Morton Subotnick arbeitete an Silver Apples Of The Moon 13 Monate lang jeden Tag 8-12 Stunden in seinem Studio. Er nahm die Buchla auf 2 Zweispur Tonbandgeräten auf. Das gängige Prinzip war: Abspielen der aufgenommenen Musik auf dem einen und gleichzeitiges erneutes Aufnehmen auf dem anderen Tonbandgerät usw. Dadurch wurde ein Art Overdub erreicht und die Spurenanzahl "virtuell" verdoppelt. Neben dem Komponieren von konventionellen Instrumental- und Vokalwerken ist Morton Subotnick der elektronischen Musik und seiner historischen Bedeutung immer treu geblieben. So entwickelte er in den letzten Jahren z.B. auch eine spielerische Kompositions-Software für Kinder: "Pitch Painter" (für Ipad, seit 2012 im App Store erhältlich).


I went out to the hazel wood,
Because a fire was in my head,
And cut and peeled a hazel wand,
And hooked a berry to a thread;
And when white moths were on the wing,
And moth-like stars were flickering out,
I dropped the berry in a stream
And caught a little silver trout.
When I had laid it on the floor
I went to blow the fire a-flame,
But something rustled on the floor,
And someone called me by my name:
It had become a glimmering girl
With apple blossom in her hair
Who called me by my name and ran
And faded through the brightening air.
Though I am old with wandering
Through hollow lands and hilly lands,
I will find out where she has gone,
And kiss her lips and take her hands;
And walk among long dappled grass,
And pluck till time and times are done,
The silver apples of the moon,
The golden apples of the sun.

("The Song of Wandering Aengus" by William Butler Yeats)