GOLDEN SEA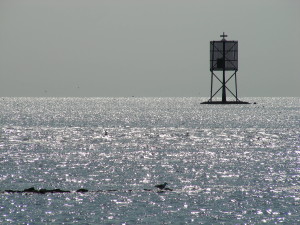 Manchmal gehe ich an meinem Plattenschrank, ziehe aus einer Abteilung einer bestimmten Musikrichtung, auf die ich gerade Lust habe, eine Platte heraus und denke, hey, wie gut ist die denn? So erging es mir kürzlich mit einer Langspielplatte aus dem Stall von Pedro de Freitas sound aspects. Leider existierte dieses ganz hier in der Nähe, quasi in der Nachbarschaft, in Backnang, angesiedelte Unternehmen nur neun Jahre, brachte aber 53 Platten in dieser Zeit heraus, und darunter sind zahlreiche Kostbarkeiten, zum Beispiel von Robin Holcomb, Wayne Horvitz, Bobby Previte, Butch Morris, Gerry Hemingway, Anthony Braxton oder Paul Smoker. Die Platte, die mir neulich zwischen die Finger kam, wurde aber von zwei ganz anderen Musikern aufgenommen, von David Murray und Kahil El´Zabar. David Murray, * 19.2.55 in Berkely Kalifornien, spielt hier Tenorsax und Bass Clarinet, während der am 11. November 1953 in Chicago, Illinois als Clifton Blackburn geborene Kahil El´Zabar an diversen Perkussionsinstrumenten und am Schlagzeug tätig ist.








Die Platte, um die es heute geht, heißt GOLDEN SEA, aufgenommen am 28. Januar 1989 in Chicago, abgemischt im Tonstudio Bauer in Ludwigsburg. Das Titelstück hört sich wirklich an, wie es benannt ist, wie der Ozean bei sich neigender – nicht untergehender – Sonne, die See glitzert auf ganzer Fläche, es entstehen, je mehr sich die Sonne ihrem Horizont zuwendet mehr und mehr goldene Flächen, die glitzern und funkeln. Kahil El´Zabar entlockt seinen zahllosen Instrumenten tatsächlich die Golden Sea und David Murray scheint mit seinem Sax und seiner Bassklarinette dieses goldene Meer durchzupflügen.- Im zweiten Stück, Dreams, spielt Murray, man kennt das von ihm, einmal mehr recht frei, während im dritten Stück der ersten Plattenseite, Sunrise Serende, Kahil El´Zabar den Sonnenaufgang mit seiner Stimme und wiederum zahlreichen Perkussionsinstrumenten geradezu heraufbeschwört, David Murray schweigt hier. Auf Seite 2 erfreut das Duo den Hörer mit einer außergewöhnlichen Fassung des Miles Davis Klassikers All Blues. Die beiden spielen das Stück so zart, so zerbrechlich, wie ich es nie für möglich gehalten hätte, Golden Sea, das Funkeln einzelner, kleiner, kurzer Wellen.- Die Platte endet mit einem engagiertem Lied für ein neues Südafrika, Song for a new South Africa.
Bei sound aspects erschienen noch zwei weitere Platten mit Kahil El´Zabar: The Ritual und Sacred Love, beide mit Lester Bowie u. a. und schließlich Another Kind of Groove mit Billy Bang und Malachi Favors.
Zu erwähnen sei noch, dass Kahil El´Zabar 1999 zwei CDs herausgebracht hat, die
eine mit Archie Shepp, die andere mit Pharoah Sanders.