I am not really a comic reader – or maybe better: viewer. But this one is something else. I promise. Adrian Tomine (born in 1974) is one of the most successful comicwriters of the young generation. His comics mostly are portraits of the persons of his age and close to the so called real life. You could imagine them also as short stories.
Seine Themen sind existenziell. Fast immer geht es um die Einsamkeit des Menschen, gerade innerhalb menschlicher Beziehungen. In der Titelgeschichte des Storybandes "Sleepwalk" (1997) verbringt ein junger Mann seinen Geburtstag mit seiner Exfreundin. In "Dylan & Donovan" aus dem gleichen Band geht es um zwei vielleicht 15-jährige Mädchen, die mit ihrem Hippyvater ein Comicfestival besuchen. Doch die Stimmung ist miserabel. Den Grund dafür findet die eine der Schwestern im Tagebuch der anderen.
Shortcomings / Halbe Wahrheiten, in den USA im Jahr 2007 erschienen, ist die erste ein Buch füllende Graphic Novel von Adrian Tomine. Im Mittelpunkt steht der 30-jährige Ben, unzufriedener Manager des Universitätskinos in Berkley. Ben ist, wie seine Freundin Miko, asiatischer Herkunft, fühlt sich jedoch deshalb minderwertig, was er sich nicht eingesteht, und hätte lieber eine "Weiße" als Freundin. Die Beziehung zu Miko ist angespannt, zumal Ben Mikos Arbeit nicht ernst nimmt. Miko arbeitet ebenfalls in der Kinobranche, sie beschäftigt sich im Unterschied zu Ben dabei jedoch mit ihrer asiatischen Herkunft. Plötzlich kündigt Miko an, wegen eines Stipendiums für ein paar Monate nach New York ziehen zu wollen.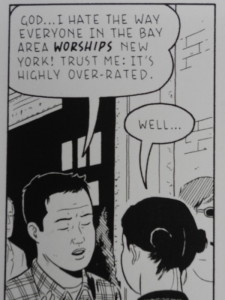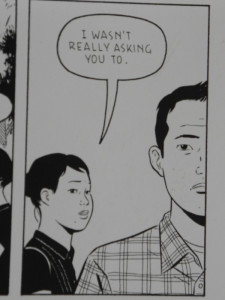 Ben aber kann nicht loslassen. Er versucht erst einmal, ein paar Frauen in Berkley kennenzulernen, was kläglich scheitert. Schließlich reist er Miko nach.
Ben ist zwar kein Sympathieträger und er ist ein Besserwisser, dennoch ist die Geschichte nicht nur spannend, sondern auch in hervorragenden Bildern erzählt. Witzig und entspannt ist Ben nur, wenn er seine beste Freundin trifft, die lesbische Alice, deren Studium sich in die Länge zieht, weil sie immer auf der Suche nach der nächsten Frau ist. Die Dramaturgie dieser vielseitigen Geschichte ist überzeugend, auch der Schluss.
Einen Konzertbesuch gibt es auch. Die Praktikantin in Bens Kino arbeitet nicht nur als Performancekünstlerin (mit gewagten Objekten), sondern sie singt in einer bemerkenswerten Punkband. Wer die Pannels anschaut, hört die Musik.