… also manche Leute haben Ideen. Alfred van Cleef, Journalist und freier Schriftsteller aus Amsterdam, wollte sich einen lang gehegten Traum erfüllen und unternahm eine Reise entlang des Nullmeridians. Fünf Monate war er unterwegs, 4800km führte die Reise von Tunstall in Yorkshire / England bis in die Hafenstadt Tema an der Küste Ghanas. Ein verrücktes, tolles, wunderbares und interessantes Projekt, an dem er uns teilhaben lässt, er hat nämlich ein Buch darüber geschrieben: Die verborgene Ordnung – Eine Reise entlang des Nullmeridians. Dieses Buch ist jedem zu lesen empfohlen, der Freude an solch außergewöhnlichen Ideen hat und dazuhin vielleicht auch noch etwas lernen will über die Verortung des Menschen, über Navigation und Zeitmessung.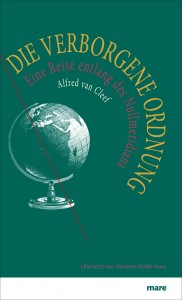 Eine kleine Leseprobe: "Mein erstes Ziel war der magische und gleichzeitig ultimative Nullpunkt von Tunstall. Dort sollte meine Meridianreise in den Süden ihren Anfang nehmen. Tunstall war ein kleines Dorf ohne Anbindung an den öffentlichen Verkehr. Am nächsten lag lag der Badeort Withernsea, …Die zwei Hotels des Städtchens machten einen heruntergekommenen Eindruck. Alle Zimmer waren von angeheuerten Vertragsarbeitern belegt, die vor der Küste eine neue Gaspipeline verlegen sollten. … In Withernsea standen Wohnwagen mit Urlaubern, und es gab Spielautomaten aus den Sechzigerjahren des vergangenen Jahrhunderts. Es war ein Dorf mit einer Unmenge von Elektromobilen, Kinderwagen und Rollstühlen. Das war England an einem nassen Sommertag, ein Land mit altmodischen Fernsehantennen, dickbäuchigen, tätowierten Männern in kurzen Hosen, aber vor allem auch Hunden. Leise sang ich einen alten Hit der Kinks: `I like my football on a Suturday, Roast beef on Sundays, all right. I go to Blackpool for my Holidays, sit in the open sunlight.´ In einer Kneipe bestellte ich mangels Alternative Spiegelei auf weißem Toast, mit extra Tomaten. Aus der Jukebox schallte ein Song der Beach Boys, die Sonne brach durch …"
Unglaublich, trifft doch der Mann gleich zu Beginn seiner Reise in einem gottverlassenen Nest am Ende der Welt in einer Kneipe auf eine Jukebox, ich fass es ja nicht, und das im einundzwanzigsten Jahrhundert. Wenn ich doch einmal so etwas erleben könnte… Schade nur, dass uns der Autor nicht verrät, um was für einen Beach-Boys-Song es sich gehandelt hat. Okay, aber dafür erinnert er uns an einen sehr schönen Kinks-Song, der sich natürlich auch in meinem Plattenschrank befindet, es handelt sich um Autumn Almanac, ein Ray Davis-Song, der 1967 erschienen ist. In eben diesem Jahr veröffentlichten die Kinks bzw. Ray Davis (solo) noch folgende unglaublich gute Singles: Death of a clown, Mister Pleasent, Waterloo Sunset und Susannah's Still Alive. Hat noch jemand Fragen?








Alle fünf Songs kann man übrigens auf der Platte The Kinks: Something Else (Deluxe Edition 2011) ohne Probleme käuflich erwerben.
Aber zurück zu dem Buch von Alfred van Cleef, auch die SZ hat sich mit seinem Buch Die verborgene Ordnung beschäftigt und sie schreibt treffend:
"Gerade das macht den Reiz von Alfred van Cleefs Buch aus, dass es ihn an Orte verschlägt, für deren Besuch es eigentlich keinen Anlass gibt, dass er Menschen trifft, denen normalerweise niemand zuhört, und dass er auf diese Weise Dinge erlebt, die in ihrer ungeheuerlichen Alltäglichkeit spektakulär sind." Süddeutsche Zeitung