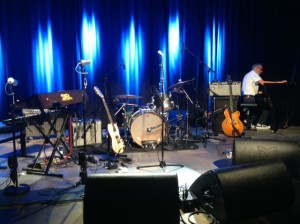 Zu der Zeit, zu der ich dieses Foto machte, vor dem ersten Konzert des 9. Punkt Festivals, das mit Mariam The Believer eröffnet wurde, war der Trompeter Nils Petter Molvaer noch mit dem Auto auf diversen Bergstrassen unterwegs. Etwas später am Abend kam er endlich im Hotel Norge an, und ich traf ihn, er wirkte etwas angestrengt, im Fahrstuhl. – Ah, Michael, hallo, sagte er, ich wollte unbedingt Mariam The Believer erleben, aber die norwegischen Strassen sind schon mitunter in besonderem Zustand, wie war sie denn?" "Gut, intensiv."
Tatsächlich ist Miriam Wallentin eine exzellente Sängerin, die ihre Velfalt schon in diversen Klangwelten bewiesen hat, zwischen frei improvisierter Musik, Kammerjazz, und minimalistischem Art Rock. Die Texte dieser neuen Formation sind mir allerdings zu esoterisch, voller Selbstverwirklichungsattitüden und postfeministischem Gestus. Das mindert das Vergnügen ihres kraftvollen Vortrags etwas, und gerne hole ich AD LUCEM, die CD des Bassisten Anders Jormin (auf ECM) aus dem Regal, wo sie wundervolles Latein singt.
Der Klavierstimmer vollendete dieweil seine Arbeit, und schuf die Vorausetzungen dafür, dass Tigran Hamasyan, Jan Bang und Eivind Aarset traumhaften "Gepenster-Jazz" spielen konnten.