Pale horses of Stian Westerhus, the dream riders of Terje Rypdal and Frisell's Big Sur zephyrs at Molde. Die blässlichen Pferde von Stian Westerhus, die Traumreiter von Terje Rypdal und die Frisellschen Zephyre aus dem Big Sur an zwei Abenden in Molde. Wenn das nichts ist! Anfang: Terje Rypdal mit The Sounds Of Dreams.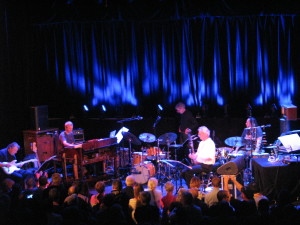 Vorn am äussersten linken Bühnenrand hockt wie Sitting Bull der ältere Rypdal mit seiner Gitarre, skulpturengleich. Er spielt nicht nur, er schaut Musik.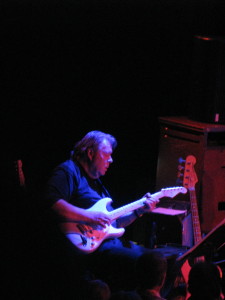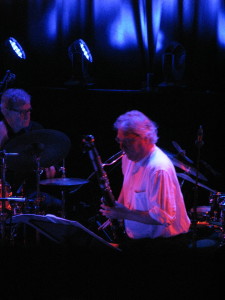 Links neben ihm Tastenmann Ståle Størlokken und im Bühnenhintergrund die zwei Schlagmänner, Jon Christensen und Paolo Vinaccia. Jon und Paolo, was für eine Ergänzungsgänze! Schräg gegenüber auf der anderen Bühnenseite der jüngere Rypdal, Sohn Marius, tastendrückend und schiebend. Und in der Bühnenmitte schliesslich ein Fagottspieler. James Lassen aus Bergen. Bassist Sveinung Hovensjø, noch von der Rypdals Besetzung aus den 70ern, machte im letzten Moment die Gesundheit zu schaffen (inzwischen auf Besserungsweg), weswegen die Bässe u.a. von Rypdal selbst über- nommen werden mussten. Langsam baut sie sich auf, die Musik. Langsam aber stetig und unnachgiebig. Es hat sich nicht so viel an der Musik geändert. Etwas weniger rauh, schneidend, dafür etwas runder, voluminöser – wie eben der Klang heutzutage ist. Die Schlagzeuge klingen wie Eisregen, knackendes Unterholz, fallende Gesteinsbrocken. Hier wird man nicht zugetrommelt, auch wenn Vinaccia Wegmarken setzt.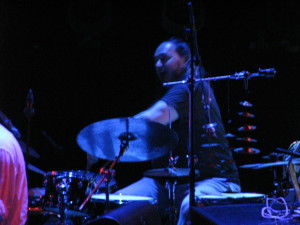 Wer macht sonst Musik, die sich so aus Gitarrenklängen aufbaut und sich so gut und stark mit Blech und Holz vermischt? Wer erreicht dabei solche kosmologischen Dimensionen? In diesem neuen Werk ist Rypdal (wieder) ganz da. Fagot und Fagotspieler sind eine grossartige Wahl, ergeben eine erstaunliche Legierung! Auch die Tastenmänner grossartig. Kein Musiker zuviel auf der Bühne.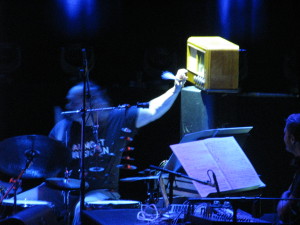 Rypdal, ein Meister der Dynamik, des Raumgefühls und melodischer Inhärenz. Durch all das geistern in diesem Werk traumgleich Melodien aus alten Grammophonen, Radioapparaten, Gassen und Hausfluren, Gassen und Spelunken. Von schrägen Tangos, Märschen bis Arien und Belcanto. Bei letzterem war nun mal Paolo gefragt, der das eine nach dem anderen aus einem richtigen, stilvollen Radioapparat drehte, um Sänger und Orchester in voller Hingabe auf seinem Schlagwerk zu begleiten. Und noch einmal. Und noch einmal. Ein Stück im Stück im Stück. Vinaccia steigt da so hinein, dass es dem Traumgleichen fast zu entsteigen droht. Zu lang? Oh nein, eher eine Freude zu zu schauen, wie er für sich selbst im Schönen Glücksmomente erlebt.








Gegen Ende dann kommt das Ganze noch schwer ins Rocken. Dann aber ein barocker Zug, ein Air als Ausklang. Hier wurde nicht jung getan, sondern wurden alterserfahren (und –beschwert) Klänge grandios über Lebensabschnitte hinweg getragen. Und dankbar in unersetzbarem Live-Erleben empfangen.