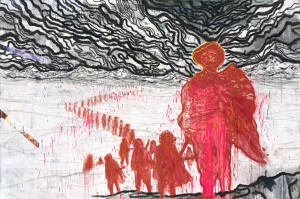 Man sieht auf den zumeist großformatigen Bildern zb mit Elektrogitarren bewaffnete Taliban – und das erinnert unsereinen an die Geburt des Rock´n´Roll aus dem Geiste der Wildheit. Natürlich haben Richters wilde Werke Bezug zur Kunstgeschichte (cause we´re living in postmodern times and everything´s kinda remix of history), Edvard Munch lässt grüßen, es finden sich Anklänge an den deutschen Expressionismus.
Seine Bilder gehören in den Kontext einer poetischen und narrativen Malerei. Vielleicht nicht zufällig hält Richter derzeitig eine Professur an der Wiener Kunsthochschule, in dessen Umfeld die großen Geschichtenerzähler der Wiener Schule des Phantastischen Realismus, namentlich Rudolf Haussner, Friedensreich Hundertwasser, Arik Brauer und Ernst Fuchs hervorgegangen sind – und in Wien zuvor auch Gustav Klimt und Egon Schiele.
Mit ähnlicher Farbenfreude wie Friedensreich Hundertwasser gesegnet (mit allen Hundertwassern gewaschen) ist dem Hamburger aber verniedlichende Ornamentik fremd. Nicht von ungefähr war er ein engagierter Sponti der Hafenstrasse und ein Sympathisant des Punk und er ist mittlerweile sogar stolzer Besitzer eines Plattenlabels ("Mir gehört Jan Delay" – grins, Ironie). Nein, in solchen Bildern steckt eine Wucht und ein überschwenglicher, ungehemmter Schaffensdrang, den man auch bei seinem Freund und Ateliernachbarn Jonathan Meese sieht und spürt. Hier wird gemalt, nicht konzipiert.
Angenehm auch, den Maler reden zu hören, denn er ist nicht auf den Mund gefallen. Schweigsame Geheimniskrämerei ist seine Sache nicht.  "Die meisten Maler sind doof", sagt Daniel Richter. Er nicht, soviel ist klar, denn eloquent erklärt er seine Arbeiten und seine Sicht der Dinge.
Ob sein derzeitiger grandioser Erfolg ein Hype ist – schwer zu sagen. Denn alle Zeit will Weile haben. Erinnert sei hier an die Jungen Wilden, deren Bilder stehn heut´ im Depot. Richter hingegen sieht seine Bilder nach Ausstellungen selten wieder. Derzeitiger Kurswert pro Bild: eine Eigentumswohnung in Berlin Mitte. Aber die braucht ein Nomade ja nicht.