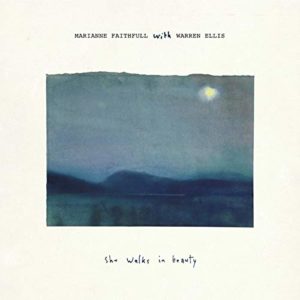 Dank Lady Caroline Lamb's Beschreibung von Lord Byron als "verrückt, schlimm und gefährlich zu kennen", wurde das Kernthema der romantischen Poesie – Revolution, Offenbarung, die ewige Suche nach dem Erhabenen – lange Zeit als Spiel für junge Männer angesehen, eine Haltung, die sich bis zu den flamboyanten Rockern der 60er Jahre durchsetzte. Es ist daher eine Freude zu hören, wie eine 74-jährige Frau – die so oft im Schatten ihrer männlichen Zeitgenossen steht – auf She Walks In Beauty das Erbe von Byron, Keats und Shelley antritt, ihnen mit unbeirrbarem Blick in die Augen schaut und zeigt, wie einnehmend sie deren Welt bewohnen kann.
Über die Jahrzehnte hinweg von Krankheit, Sucht und auch mal Obdachlosigkeit geplagt, ist Marianne Faithfull den porösen Extremen des Lebens näher gekommen als die meisten. Sie fand sich auf diesem unsicheren Boden wieder, als sie auf halbem Weg zu den Aufnahmen dieses Spoken-Word-Albums an Covid-19 erkrankte. Als sie sich im Krankenhaus erholte, entdeckte sie, dass ihre medizinischen Aufzeichnungen sie nur für eine palliative Versorgung vorgesehen hatten. Die Tatsache, dass sie zurückkehrte, um Shelleys monolithischen, unbarmherzigen Ozymandias aufzunehmen – eine schreckliche Erinnerung daran, dass alles menschliche Streben für den Staub bestimmt ist – oder Byrons sterbenden Fall So We'll Go No More A-Roving, verleiht dem Album eine scharfe, ungeschriebene Poesie.
Doch auch ohne diese Umstände wäre She Walks In Beauty eine emotionale Sammlung gewesen. Faithfull liebt diese Gedichte, seit sie in der Klosterschule war, ermutigt von einer Englischlehrerin namens Mrs. Simpson: Als Mädchen, sagt Faithfull, stellte sie sich gerne vor, dass sie von ihr handeln. So gesehen haben Thomas Hoods The Bridge Of Sighs, das von einer jungen Frau handelt, die dem Untergang geweiht ist, oder die Bezüge zu Camelot in Tennysons The Lady Of Shalott (die Mick Jagger inspirierte, als er As Tears Go By für Faithfull schrieb) die bittersüße Wirkung von jemandem, der auf sein vergangenes Ich zurückblickt.
Jetzt aber trägt die polierte Patina ihrer Stimme all die Erfahrung in sich, die man für Wordsworths herzzerreißendes Surprised By Joy oder Keats' Ode To A Nightingale braucht, wobei jedes Wort mit plastischer Klarheit vorgetragen wird. Aber sie ist nicht das einzige magische Instrument hier. Bad Seed Warren Ellis, der wie immer eine beeindruckende Balance zwischen Eloquenz und Zurückhaltung an den Tag legt, erschafft eine Musik, die auf der richtigen Seite der zitternden Ehrfurcht schwebt, aber niemals zuckersüß oder sentimental ist. Nick Caves Klavier untermalt auch diese Songs, zusammen mit einem blass herumlungernden Cello und einer Violine, während Brian Eno ein stark gothisches La Belle Dame Sans Merci unterbricht und verzerrt.
Dies ist eine Musik, die um Faithfull herum ein- und auszuatmen scheint, die dem Wunder Raum gibt, sich zu entfalten, ohne es krass zu kennzeichnen. To Autumn, Ode To A Nightingale, She Walks In Beauty: das sind vertraute – sogar übervertraute – Gedichte. In diesen Vertonungen halten Ellis und Faithfull sie jedoch wieder dem Licht entgegen und lassen es durchströmen. Mrs. Simpson, so hofft man, würde es gutheißen.
written by Victoria Seagal, translated by D.L.