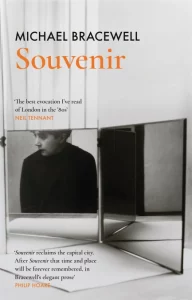 A lovesong to London in the early 80s: a pre-computer, pre-digital, pre-mostmodern, New Wave age. A vivid eulogy for London of the late 1970s and early 80s – the last years prior to the rise of the digital city. An elliptical, wildly atmospheric remembrance of the sites and soundtrack, at once aggressively modern and strangely elegiac, that accompanied the twilight of one era and the dawn of another. Haunted bedsits, post-punk entrepreneurs in the Soho Brasserie, occultists in Fitzrovia, Docklands before Canary Wharf, frozen suburbs in the winter of 1980… (Press Information, and a good one!)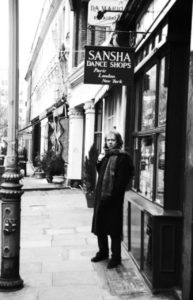 Michael Bracewells Souvenir ist weder ein Memoirenbuch noch ein Werk der Psychogeografie. Es enthält Elemente von beidem, denn seine wechselnde, impressionistische Erzählung besteht aus erinnerten Momenten, Orten und Begegnungen im heute unvorstellbar weit entfernten London der 1970er und 80er Jahre. Es ist ein kurzes Buch, eher ein ausgedehnter Essay, über ein großes Thema: das Ausklingen der, wie er es nennt, elektro-mechanischen Ära, die die Stadt bis Mitte der 80er Jahre prägte, und das Heraufdämmern der digital gesteuerten, rasenden Ära, in der wir jetzt leben – wenn wir es uns leisten können.
Bracewells Erinnerungen an London werden von den Geistern des Modernismus der 30er Jahre heimgesucht, deren Schatten groß sind, wenn er sich an seine alten Lieblingsorte in den inzwischen veränderten Vierteln wie Holborn, Hackney, Ladbroke Grove und Docklands erinnert. Er hebt vor allem TS Eliots "The Waste Land" hervor, das er als die "einzige Aussage" bezeichnet, um die sich die jungen Schriftsteller und Künstler der 30er Jahre auf ihrer Suche nach Neuem scharen konnten. Dass sie das Gedicht größtenteils als undurchschaubar empfanden, schien kaum eine Rolle zu spielen – im Gegenteil, es trug nur zu seiner Wertschätzung bei.
Eine Frage, die er zwar stellt, aber nicht wirklich beantwortet, ist die, was der entsprechende kulturelle Schlachtruf für die Künstler und Musiker sein könnte, die in dem London lebten, über das er geschrieben hat. An einer Stelle stellt er diese Frage einer namenlosen jungen Frau – "blasses Gesicht, dunkle Augen, verrücktes Haar" -, die er im September 1982 im Café des ICA in London sitzen und in einem Fotobuch blättern sieht. Ihre Gedanken kreisen sofort um einen Auftritt der Post-Punk-Gruppe Joy Division, deren Sänger Ian Curtis, kaum zwei Jahre tot, für ihre Generation bereits mythischen Status erlangt hat.
Der Sprung von der düsteren Moderne zum düsteren Post-Punk ist gewagt, aber diese Art des Hin- und Herpendelns zwischen Hoch- und Populärkultur ist typisch für Bracewell, und größtenteils gelingt ihm das auch. Das inzwischen verschwundene London, an das Bracewell sich erinnert, ist abwechselnd detailliert und undurchsichtig, und die Resonanz seiner ausgewählten Vignetten hängt oft bis zu einem gewissen Grad davon ab, dass der Leser die Orte kennt oder zumindest wiedererkennt. Glücklicherweise sind mir viele von ihnen aus meiner eigenen Jugendzeit vertraut: das leicht abschreckende Äußere von Blax, dem edwardianischen Herrenausstatter in der Sicilian Avenue; das labyrinthische Innere von Dillon's University Bookshop in der Gower Street; "Discreetly Bizzare" [sic], eine Galerie des selbsternannten "Kunstterroristen" Stevo Pearce in der New Cavendish Street.
Der Außenseiter Pearce war ein Produkt des wohl letzten Zeitalters der demokratisch-subversiven Popkultur. Er betrieb auch ein erfolgreiches unabhängiges Plattenlabel, Some Bizzare, auf dem das verschmitzte Elektronik-Duo Soft Cell 1982 seine Single "What!" veröffentlichte. Das dezidiert postmoderne Video des Songs, das sich unter anderem auf Warhol, Lichtenstein und Bridget Riley bezog, wird von Bracewell wegen seiner Dynamik als prägender Moment der 80er Jahre herausgestellt: Pop-Futurismus, der sich an Pop-Art-Nostalgie reibt; elektronische Beats, die einem Cover eines 20 Jahre alten Soul-Songs einen modernen Glanz verleihen.
Andernorts jedoch kommt die außergewöhnliche Erfindung der Post-Punk-Ära zu kurz, und nur die "plutoniumlastigen" Klanglandschaften von PiLs eisiger Metal Box verdienen eine längere Betrachtung. Angesichts der außerordentlichen kreativen Intensität der Post-Punk-Szene in Großbritannien ist es noch merkwürdiger, dass er Bands wie Suburban Lawns, eine ausgesprochen schrullige kalifornische Art-Pop-Gruppe, hervorhebt. Wo, so könnte man berechtigterweise fragen, sind Subway Sect oder die Raincoats? Ein Abschnitt über das frühere London der verblassenden Hippie-Träume – "Schwere Mäntel, feucht, nach sirupartigem Patchouli stinkend; angeschlagene Militärknöpfe, ungewaschene Jeans und schwarze Wildlederknöchel…" – ist eindringlich und passt besser zu einer Erzählung, die die Vergangenheit heraufbeschwört, ohne jemals in Nostalgie zu schwelgen.
Diese Vergangenheit, wie sie von Bracewell destilliert wurde, umfasst Ezra Pound und Wyndham Lewis ebenso wie Stevo Pearce und John Lydon; die Hippie-Besetzungen im Notting Hill der 60er Jahre und die mattschwarzen Innenräume des Design-Chics der 80er; die kunstvollen Eduardo-Paolozzi-Mosaike in der U-Bahn-Station Tottenham Court Road und die Hightech-Industriearchitektur des Lloyd's-Gebäudes.
Mit rund 120 Seiten ist Souvenir ein absichtlich kurzes Buch, das aus einer viel längeren Version destilliert wurde, und einige werden den relativ hohen Preis zweifellos unerschwinglich finden. Am stimmungsvollsten ist es jedoch, wenn es ein kulturell demokratischeres London heraufbeschwört, in dem die Mieten billiger waren und eine bestimmte Art von kantiger, erfindungsreicher Popmusik mit einer fieberhaften Intensität der Zielsetzung geschaffen und mit einer Bedeutung versehen wurde, die heute fast rätselhaft erscheint. Die Vergangenheit ist eine andere Stadt.
geschrieben von Sean O'Hagan, übersetzt von von Deep L. & M.E.