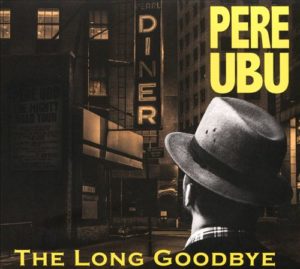 Hj
hk
Ever since "30 Seconds Over Tokyo," Pere Ubu have been portending the end, either with their apocalyptic sounds or the numerous times they've threatened to call it quits. This time, they may actually mean it. The band's mastermind David Thomas described The Long Goodbyeas their "definitive destination," and if it is their final statement, they're not making any concessions. Unlike 20 Years in a Montana Missile Silo, where they framed the complexity of their music in relatively short, simple outbursts, this time they lead with the avant side of their avant-garage, letting it sprawl and tangle in fascinating and unsettling ways.
For the band's final chapter, Thomas was inspired by an unlikely pair of influences: commercial pop music and Raymond Chandler's classic 1953 noir novel The Long Goodbye (which, not coincidentally, was the author's final book and the culmination of the Philip Marlowe series). Thomas' noir inspirations cast the sharpest shadows on the excellent "Flicking Cigarettes at the Sun," a hard-boiled farewell to Los Angeles (whose name he pronounces with an early 20th century hard g) that's filled with sunlit menace and dread, and on "Fortunate Son," where he explains that the favorite voice inside his head "speaks from under the lamplight of a roadside diner in the urban sprawl of Los Angeles/Sometime in the '40s, something like a Jim Thompson novel" over taut synths and unspooling guitars.
Pere Ubu's interpretation of pop music is far less literal. In fact, this is some of their most disorienting music, thanks to the focus on Robert Wheeler's and Gagarin's synths, which chitter, chime, and squeal as Thomasquestions reality on "What I Heard on the Pop Radio." The Long Goodbyeoffers plenty of reminders that he's a vocalist like few others, and one who knows how to use his instrument perfectly. He spits out his words with the impatience of a man who knows the end is near, whispering "progress is a funny thing" savagely on "The World (As We Can Know It)."
He also remains an unparalleled writer as he chronicles the places and people that change and disappear on the album's journey. This is especially true on "The Road Ahead," a nine-minute excursion that reaches mythic proportions as it crosses the country and travels from spellbinding to poignant. This heartfelt undercurrent is just as vital to The Long Goodbyeas its abrasive experiments, and the band leave their audience with the relatively comforting seaside vignette "Lovely Day." From beginning to end, The Long Goodbyeis pure Pere Ubu: surprising, unexpectedly tender, and above all, thought-provoking. Even by their standards, this is a wild and challenging album — coming full circle rarely sounds this exhilarating.
written by Heather Phares