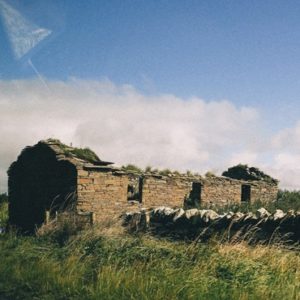 February 2016. Days unfolding under grey skies. The only talks were the ones with local pub-owners and, while reading "Bealtlebone", poor, haunted, fictional John Lennon . Fell in love with ghostlike echoes of loneliness.
Near Dunnet Head, the most Northern point of Brittania, I dicovered a house on the cliffs, not far away from a light tower. Climbed out of the car, shaving my criminal beard, ending the 652nd listening of "Taking Tiger Mountain" in my lifetime, rang the door bell.
No one there. Went around the house – nothing, took place in a big wooden chair looking over to Orkney Islands, nearly invisible behind curtains of fog. Sat there for hours, big coat, pure amazement. Single malt whisky. Old record player indoors. Louis Armstrong. Stories falling from the mountains. Heaven is a place where nothing really happens.
Years later, looking back, Erland Cooper's "Hether Blether" would've been great conpany there. As it is in the here and now. All those moods and tales and sounds and silences from the Orkneys. Fabulous!
Michael Engelbrecht (2016 / 2020)